"A Bad Beginning

Part One"

Adapted from:
The Bad Beginning
Transcript:
link
Main character(s):
Violet, Klaus, Sunny
Baudelaire guardian:
Count Olaf
Featuring:
Mr. Poe, Justice Strauss
Main enemy:
Count Olaf
Olaf's disguise:
Himself
Main setting:
Count Olaf's house
Library:
Justice Strauss' library (law)
Key crew
Writer:
Daniel Handler
Director:
Barry Sonnenfeld
Producer:
Neil Patrick Harris
Release details
Story number:
1a
Season/series:
Season 1
Premiere network:
Netflix
Release date:
January 13, 2017
Format:
50 minutes
Production code:
1.1
Navigation
←Previous
Next→
A Series of Unfortunate Events
none
"A Bad Beginning: Part Two"
Memorable moment

Behind the scenes video
"A Bad Beginning: Part One" was the first episode of Netflix's A Series of Unfortunate Events. It covered the first half of The Bad Beginning and the start of the Baudelaires' misfortunes.
This episode also introduced the Quagmire parents, Mr. and Mrs. Quagmire, though at the time of "The Bad Beginning", they were implied to be the Baudelaire parents instead.
Official synopsis
The dreadful history of the Baudelaire children begins with a terrible fire, a terrible new guardian, and a mysterious organization.
Dedication
To Beatrice –

darling, dearest, dead.
Plot
Standing in a dimly lit underground tunnel, Lemony Snicket lights a match and informs the viewers, that there is no happy beginning, no happy ending, and very few happy things in the middle. He waits for a few minutes to see if the viewer will stop watching, but after a few minutes he informs us that the Baudelaire story happened many years ago.
Lemony is then interrupted as the ground trembles above him, which is caused by a rickety trolley as it passes along on its track. Violet, Klaus, and Sunny Baudelaire are one of the people on board. The children see a fire engine rushing by, but don't think too much of it. They get off at Briny Beach on a gray and cloudy morning for the simple reason being that it is not crowded with tourists.
At the beach, Violet skips a rock across the ocean and decides to use a rock retrieval device that she had invented. The device is successful in getting the rock, and she briefly celebrates with Klaus.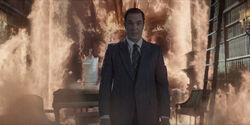 Hearing a sudden noise, Sunny turns her head to see a mysterious figure in the distance. Violet recognizes the shadowy creature as Mr. Poe, from the bank, but she is confused at why she is at the beach. Mr. Poe approaches them and looks at them sadly. After a long silence, the Baudelaire children try to make conversation. Mr. Poe then says 8 words that would forever haunt the children: "Your parents have perished in a terrible fire." The children don't say anything at all, and he takes the children to his car.
Visiting the Baudelaire Mansion, ravished by the fire, the Baudelaires find it's nearly all gone. While Klaus is looking at the ashy remains of the house, he finds a spyglass in a cabinet drawer. When he pulls it out, part of it falls apart in his hand. As Mr. Poe explains about the Baudelaire Fortune and their future guardianship, Klaus finds that the eye-shaped end of the spyglass opens. Mr. Poe beckons for them to leave, and the Baudelaire orphans wistfully follow. He explains in the car that until he finds the children a new guardian, they'll stay with his family.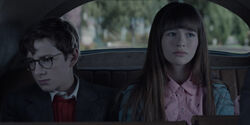 The Baudelaires have dinner at Mr. Poe's house, where everything is boiled, with his wife, Eleanora Poe, and two children, Edgar and Albert. Eleanora presents the latest issue of The Daily Punctilio, whose front page headline is on the Baudelaire Fire. Mr. Poe tells his wife that maybe they shouldn't discuss the fire in front of the Baudelaires, but then changes his mind when he realizes that he is mentioned in the paper as well. Later, as the Baudelaires lay together on a single bed in Edgar and Albert's room, Mrs. Poe prods them: "You must feel terrible, and you must miss your parents very much." She gets Klaus to repeat it, and the following morning's headline says: "We Feel Terrible, and We Miss Our Parents Very Much". The next morning, it's daylight, and Mr. Poe takes the children to their "closest living relative" and their new guardian, who is named: Count Olaf, who is employed as an actor.
Upon arriving at his address, they encounter Justice Strauss, a kind-hearted and child-loving judge, who has a garden full of flowers and a private library full of books. But sadly the children discover that Justice Strauss is not in any way connected to Count Olaf, whose home looms ominously across the street.
Mr. Poe rings the doorbell, and as they wait, mentions that Count Olaf said specifically that he was "very eager to get his hands on you". Olaf runs down the stairs to let them in, and immediately the children notice the tattoo of an eye on their new guardian's ankle.
They enter Count Olaf's house and see dirt and grime in every inch and corner. Count Olaf says he could fix it up with some of the children's wealth, but Mr. Poe corrects him: the Baudelaire Fortune will not be inherited until Violet comes of age. Olaf soon pushes Mr. Poe out of the house.
He presents the orphans with a list of chores, and gives them a tour of their horrid new "home". They are only allowed to use bathroom #9, and they are forced to sleep on one bed (which isn't even that big to begin with). Their bedroom also has a pile of rocks on the side for the children.
After Count Olaf asks how the children feel about their new home, Klaus begins to argue. Violet quickly end the disagreement and notes that first impressions are often very wrong. Count Olaf agrees, and then says to them "You may think I'm a terrible man....you haven't the faintest idea".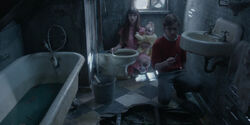 While Olaf has them cleaning the bathroom with toothbrushes, Justice Strauss rings on doorbell, and talks to Count Olaf. She's made the Baudelaires cooked lamb with her homemade mint jelly, but Olaf convinces her that they're violent and ungrateful spoiled monsters. He chomps on the lamb himself in front of the children, and dismisses Justice Strauss, saying the children don't want to see her, as the lamb was too salty. 
Climax
Meeting the orphans upstairs, he finds they completed his list and adds that they have to prepare dinner for his theater troupe, who are coming tonight. Violet has the idea to check Justice Strauss' library for cookbooks.
They decide on pasta puttanesca and go with Justice Strauss to pick up the ingredients they need. When they arrive back to Olaf's house, he and his troupe put on a musical performance in front of the children called "The Count". Olaf gets annoyed with the children when they don't clap, and he tells them to cook dinner.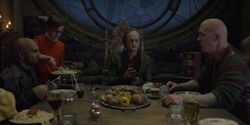 As the troupe drinks "Merlote" in the dining room, the Baudelaire children prepare dinner in the kitchen. They prepare the sauce, Violet fixes the pasta maker to make fresh pasta, and Sunny shreds the parsley with her teeth.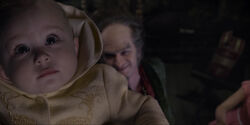 As Count Olaf gives a speech to his troupe about acting, the children serve dinner, which everyone but Olaf agrees is delicious. When Olaf finds out what they are serving, he demands to know why they were not given roast beef. Klaus points out that Count Olaf never asked for roast beef, and when Sunny makes he noise, he holds Sunny high up in the air, but then puts her down on the table as he is too drunk to stand still. He tells the children to go to their "beds" and slaps Klaus across the face, all because Klaus said that they only have one bed, and that they don't have the money to buy a new one.
As they lay in bed that night, the Baudelaires consider that this hostile environment may not, after all, may not be "better than nothing", as their father had once said. Meanwhile, Justice Strauss reads up on Adoption Law & You.
Walking through the tunnels, Lemony Snicket discusses his dedication to researching and documenting the lives of the Baudelaire children, no matter what dangers it puts him in. "Trouble and strife can cover this world like the dark of night, or like smoke from a suspicious fire. And when that happens... all good, true and decent people know that it's time to volunteer."
Somewhere, in a truck, a woman and a man(The man is dressed in a suit, with the woman in a dress)are handcuffed, and say that they need to get back to "the children."
Starring
Special Guest starring
Guest starring
Co-starring
Crew
Executive Producers

   

Cindy Holland,

Brian Wright

,

Ted Biaselli




               

               

               

Daniel Handler and Barry Sonnenfeld


               

               

               

        

with

John Weber

and

Frank Siracusa
Co-executive producer(s)

   

Rose Lam and

Emily Fox

               

               

               

   
General production staff


Co-producers

-

Tad Safran

,

April Nocifora

Consulting Producer

-

Jack Kenny

Production Manager

-

Kim Steer

Unit Manager

/

Location Manager

-

Phil Pacaud

Assistant Location Manager

-

Jennifer Berthot

2nd Unit Training Assistant Locations

-

Courtney Lenius

2nd Unit Production Manager

- Simon Abbott

Production Co-ordinator

-

Deana Kittson

1st Assistant Production Co-ordinator

-

Pat Berry

2nd Assistant Production Co-ordinators

-

Kayla LaSaga

,

Peter Brunette

Office Production Assistant

-

Amy Shier

Key Production Assistants

-

Mike King

,

Allan Arcangel

,

Tanner Whincup

,

Ariel Carefoot

,

Alexandra Huehn

Production Accountant

-

Barbara Richardsen

Assistant Accountant

-

Shannon Fleming

Payroll Accountant

-

Sara Forest

Catering

-

Sweet Pea Catering

First Aid/Craft Service

-

Rahni Gill

Transportation Coordinator

-

Doug McCord

Transportation Captain

-

James Marshall

Transportation Co-Captain

-

Murray Bloom

Canadian Production Services by

Take 5 Productions

,

Whizbang Media Inc.

Camera and lighting department

1st Assistant Director

-

Paul C. Domick

2nd Assistant Director

-

Victor Landrie

3rd Assistant Director

-

Cynthia Dryka

Script Supervisor

-

Patti Henderson

A Camera

/

Steadicam Operator

-

Dean Heselden

B Camera Operator

-

Scott MacDonald

Key Grip

-

Tony Whiteside

Digital Imaging Technician

-

David Kurvers

Video Assist

-

Dave McKnight

Best Boy Grip

-

Colin Robson

Key Rigging Grip

-

Bippin Kumar Sammy

Best Boy Rigging Grip

-

Craig Bullen

A Dolly Grip

-

Dave Kershaw

A Camera 1st Assistant

-

Nick Watson

B Camera 1st Assistant

-

Dan Morrison

Boom Operator

-

Murray Forward

Gaffer

-

David Warner

Best Boy

-

Shawn Milstead

Rigging Gaffer

-

Keith Woods

Best Boy Riggers

-

Sean Edmiston

,

Scott Ruddy

Still Photographer

-

Joseph Lederer

2nd unit camera and lighting

Director

-

Craig Hayes

Director of Photography

-

Todd Elyzen

1st Assistant Director

-

Sirish Harman

2nd Assistant Director

-

Brad Medhurst

Script Supervisor

-

Lana Krotenko

A Camera

/

Steadicam Operators

-

Doug Craik

,

Keith Thomson

A Camera 1st Assistant

-

Aaron Haesler

A Camera 2nd Assistant

-

Amie Gibbins

2nd Unit Key Grip

-

John Kuchera

Digital Imaging Technician

-

Aaron Olson

Gaffer

-

Jeff Pentecost

Best Boy

-

Marc Daunais

Script department

Art department


Supervising Art Director

-

Dan Hermansen

Art Directors

-

Don MacAulay

,

Laurel Bergman

Assistant Art Directors

-

Mira Caveno

,

Sean Goojha

Art Department Co-ordinator

/

Graphics

-

Lisa Leung

Set Decorator

-

Sandy Walker

Assistant Set Decorator

-

Jamie Jonasson

Lead Set Dressers

-

Mike Reddy

,

Liz MacKinnon

On-Set Dresser

-

Chad Chilibeck

2nd Unit Set Dresser

-

Sharri Souliere

Property Buyer

-

Jordy Wihak

Set Dec Buyers

-

Ester Bovard

,

Amber Boorman

Set Designers

-

John Burke

,

Doug Girling

,

Peter Stratford

,

Bryan Sutton

,

Sheila Millar

Paint Co-ordinator

-

John Wilcox

Paint Foreman

-

Randy Mackenzie

Property Master

-

Dean Goodine

Assistant Property Master

-

Catherine Leighton

,

Kenny Gibbs

Dailies Services

provided by

Encore Vancover, a Deluxe Company

Head Sculptor

-

Aaron Jordan

Construction Coordinator

-

Ross Walshe

Construction Foreman

-

Bruce Turpin

Illustrators

-

Jamie Rama

,

Kasra Farahani

,

Milena Zdravkonic

,

Warren Flanagan

Lead Carpenter

-

Stan Kauenhauen

Costume department

Costume Set Supervisor

-

Caitlin Krantz

Costume Co-ordinator

-

Monique McRae

Assistant Costume Designer

-

Kurtis Reeves

Truck Costumer

-

Syreeta Wooton

Make-up, prosthetics and hair

Make-up Department Head

-

Rita Ciccozzi

2nd Unit Key Make-Up

-

Judy Gruzelier

Assistant Make-Up Artists

-

Krista Seller

,

Gitte Axen

Special Effects Make-Up Designer

-

Bill Terezakis

Hair Department Head

-

Julie McHaffie

Assistant Hairstylists

-

Dianne Holme

,

Jenine Lehfeldt

2nd Unit Key Hairstylist

-

Jessica Rain

Personal assistants

Assistants to Mr. Sonnenfeld -

Mary Couch

 

(LA),

Chris Anaka

 

(Vancouver)
Assistant to Ms. Lam -

Nicole Whitmore

Movement

Stunt Co-ordinator

-

Rick Pearce

Choreographer

-

Paul Becker

Casting

Canadian Casting

-

Corinne Clark, CSA

,

Jennifer Page, CSA

Voice Casting

and Co-ordination -

Joe Cappelletti

Extras Casting

-

Sandra-Ken Freeman

General post-production staff

Post-production Supervisor

-

Bradley Ramirez

Post-production Assistant

-

Kevin Go

Post-production Co-ordinator

-

Stacie Duncan

Assistant Editor

-

Preston Rapp

Avid

Editorial Facility provided by

Pacific Post

Post-Production Services

provided by

Encore Vancover, a Deluxe Company

Sound department

Production Sound Mixer

-

Shane Connelly

Sound Utility

-

Peter Mulholland

Sound Designer

/

Re-Recording Mixer

-

Paul Ottosson

Assistant Sound Editor

-

Ryan Juggler

Music Editors

-

Mark Jan Wlodarkiewicz

,

Ryan Castle

Post-Production Sound Services

provided by

Sony Studios

Special and visual effects

Visual Effects Producers

-

Simon Lacey

,

Nancy St. John

Visual Effects Supervisors

-

Craig Hayes

,

Jon Cowley

Visual Effects Editor

-

Linda Drake

Visual Effects Technician

-

Sarah Lemmon

Visual Effects Editor

-

Linda Drake

Special Effects Co-ordinator

-

Tony Lazarowich

Special Effects Foreman

-

Clay Orr

Special Effects Best Boy

-

Kim Mortensen

CVD VFX

Visual Effects Supervisor

-

Chris van Dyck

Digital Compositors

-

Calvin Romeyn

,

Erik Jensen

,

Ashley Mason

Encore Vancouver &
Method Studios Vancouver

Visual Effects Executive Producer

-

Bob Habros

Visual Effects Supervisor

-

Ron Simonson

Visual Effects Producer

-

Luis Alejandro Guevara

Visual Effects Production Manager

-

Julika Pape

LUX Visual Effects Inc.

Visual Effects Supervisor

-

Ryan Jensen

Visual Effects Producer

-

Kevin Little

Digital Production Manager

-

Rafael Santos, Jr.

Previsualization by NeoReel Inc.

Previs Supervisor

-

Marc-André Guindon

Previs Artist

-

Nicolas Grenier

SPIN VFX

Visual Effects Supervisor

-

Mohammad Ghorbankarimi

Visual Effects Producer

-

Carrie Richardson

Effects Supervisor

-

Tim Sibley

Compositing Lead

-

Stevie Ramone

VFX by Zoic Studios

Visual Effects Supervisor

-

Marcus LeVere

Visual Effects Creative Supervisor

-

Andrew Orloff

Visual Effects Creative Supervisor

-

Steve Melchiorre

Visual Effects Associate Producer

-

Sophie Cherry
Not every person who worked on this episode was credited. The absence of a credit for a position doesn't necessarily mean the job wasn't required. The information above is based solely on observations of the actual end credits of the episodes as streamed on Netflix, and does not relay information from IMDb or other sources.
References
Events
The trolleyman asks the children if they're going to the Festive Fun Fair, with all the jolly rides and games and snacks. In the background, you can see it faintly.
Locations
Before the fire, the Baudelaires lived in an enormous mansion at the heart of a dirty and busy city.
Violet, Klaus and Sunny are at Briny Beach when they receive the terrible news that their parents are dead.
A Fresh Sea Food shack sits along the beach.
According to signs around the premises, both swimming and fishing are prohibited at Briny Beach, due to the polluted waters.
According to Klaus, there was a village in the Pacific Islands, suspended on ropes above an active volcano. They owned very little in case it erupts.
There is, near Justice Strauss' house, a local open-air market and gin distillery. The children visit with her to get the food they need for dinner.
Objects
Sunny asks for a rock that's not sandstone, and bites the one she's given into a smooth projectile to throw into the sea.
Justice Strauss has bought new file cards for her private library.
She forgot, however, to purchase a new bread knife.
Count Olaf provides the children with only one bed. After letting this slip to Justice Strauss, he claims that the plural of "bed" is "bed".
He also makes them clean the bathroom with their own toothbrushes. Afterwards, Klaus says he never wants to use a toothbrush again.
Technology
In a flashback, Violet has made a grandfather clock from the Baudelaire library into a grandfather clock toaster. While it toasts the bread, though, the minute hand falls behind five minutes.
Violet has built a rock retrieval device out of a picnic basket, which successfully brings back to her the rock she threw into the sea.
Justice Strauss' food processor broke, so she bought a new toolkit, but she claims to have no inventive or mechanical skill whatsoever.
Olaf says that the stove is like a servant. You have to whack it sometimes to get it to work.
Count Olaf's kitchen has a broken pasta machine, which Violet fixes. This particular pasta maker reminds Violet of the one Thomas Jefferson made.
Literature
Music
Violet asks Klaus to quote James Brown: "I got something that makes me want to shout; I've got something that tells me what it's all about." They both continue, "I'm super bad!". This is a reference to Brown's song "Super Bad".
Later on, Violet asks Klaus the same question, only for Count Olaf to cut in and say "I feel good." This is a reference to the James Brown song of the same name.
Count Olaf and his troupe perform "It's The Count".
Theatre
The Bald Man interrupts Count Olaf's soliloquy at the dinner table.
Culture
At the beach, Violet asks Klaus to quote Albert Einstein: "The most beautiful thing we can experience is the mysterious. It is the source of all true art and science."
An associate of Lemony Snicket, Brillat-Savarin, an 18th century philosopher and gourmand, once famously said, "To invite people to dine with us is to make ourselves responsible for their well-being as long as they are under our roofs."
Count Olaf's pasta maker reminds Violet of the one Thomas Jefferson made.
Foods and beverages
Edgar and Albert Poe debate about whether their meal is a raven or a crow, which is a reference to a famous Edgar Allen Poe poem,The Raven.  
Mrs. Poe reveals that it is in fact boiled chicken. She also served boiled potatoes and blanched string beans, which Klaus explains means boiled.
Justice Strauss was planning on cutting up a baguette and doing something with the cut-up bread and white bean hummus.
Justice Strauss prepared a lamb with homemade mint jelly and brings it over to Count Olaf's house to gift it to the Baudelaires. Olaf eats it instead and tells Strauss the children said it was too salty.
The children decide to make pasta puttanesca. Klaus wonders what this means in Italian. The dish includes pasta, sautéd garlics and onions, as well as olives, capers, anchovies, diced parsley and tomatoes.
Count Olaf's troupe drink wine, specifically "a box of the Merlote", as the children prepare the dinner.
Once, the Baudelaire's father accidentally burnt quesadillas, and said, "Better than nothing."
Sunny reveals that they made chocolate pudding for dessert, and the Hook-Handed Man and Bald Man understand her.
Justice Strauss drinks an (possibly) aqueous martini in her library.
Organizations
Snicket mentions that at the time of the Baudelaire Fire, neither the official fire department nor the Volunteer Fire Department, arrived in time to stop it.
Justice Strauss belongs to the High Court. One difficult case she's about to work on involves an illegal use of someone's credit card, and a poisonous plant.
Businesses
People
According to Lemony Snicket, one of the Poe brothers followed his father into the world of banking, while the other lives in a cave and talks to sheep.
Defined words
When Snicket describes the story as "dreadful, melancholy and calamitous", he describes calamitous as "dreadful and melancholy".
Snicket defines rickety as "unsteady" or "likely to collapse at any moment."
The trolleyman says "festive means fun".
Describing Sunny, Snicket says infant is a word which here means "a person of the age at which one mostly speaks in a series of unintelligible shrieks".
As Mr. Poe explains, "perished means killed".
As Klaus tells Albert, blanched means boiled.
According to Mr. Poe, hasty means "quickly, because I'm due at the bank soon".
Klaus defines mitzvah as a "commandment", but Justice Strauss claims it means "blessing".
Olaf says that there is only in acting a certain something which the French call escargot, which means snails.
Story notes
While titled The Bad Beginning: Part One on the Netflix website, the actual title card has it A Bad Beginning: Part One.
Filming locations
to be added
Production errors
to be added
Deviations from the novel
Rather than examining the creatures at Briny Beach, Klaus helps Violet with her invention.
While in the novel, Violet never gets the chance to complete her invention, due to the arrival of Mr. Poe, in the adaptation her device successfully retrieves the rock before his arrival.
Eleanora Poe, the editor of The Daily Punctilio, is here Mr. Poe's wife, rather than his sister. (The characters of Polly and Eleanora Poe are thus merged in one.)
While in the book, Mrs. Poe buys the Baudelaires ugly and itchy clothing during their stay at the Poe residence, here the children continue to wear the clothes they were already wearing.
Rather than making Sunny a small cot out of the window curtains, and taking turns on the floor and on the one bed provided, all three Baudelaires sleep together on their one cramped bed.
During the dinner scene, in the book, when Olaf slaps Klaus, the theatre troupe laughs, and some of them even applaud Olaf. In the TV series, they're shocked and silently leave the room.
Instead of a bland introduction to the theatre troupe, they have an entire song together with Count Olaf.
In the books, the children cry after Count Olaf strikes Klaus across the face all the way until they sleep. Here, instead Klaus yells that they're situation is not better than nothing and rather than cry, the orphans simply look up wile in bed, very depressedly.
Continuity
When Klaus meets Count Olaf in the morning after he spent the night reading, Klaus says, "I know what you are up to', to which Count Olaf replies, "Me? I'm just having my morning coffee, although I can't seem to the sugar bowl." This is a reference to the infamous Sugar Bowl, an item that he and Esmé Squalor have been struggling to get their hands on for quite some time.
The article in The Daily Punctilio about the Baudelaire children is written by Geraldine Julienne. (PROSE: The Vile Village, The Hostile Hospital, The Carnivorous Carnival, The Penultimate Peril)
Some of the names in the VFD tunnel include "Quagmire", (PROSE: The Austere Academy, TV: "The Miserable Mill: Part Two", "The Austere Academy: Part One", et al.) "Snicket", (PROSE: The Bad Beginning, et al.) "Julienne", (PROSE: The Vile Village, et al.) "Remora", (PROSE: The Austere Academy, TV: "The Austere Academy: Part One", et al.) the "Cathedral of the Alleged Virgin" and "Spats", (PROSE: The Austere Academy, TV: "The Austere Academy: Part One", et al.) as well as "Montgomery", (PROSE: The Reptile Room, TV: "The Reptile Room: Part One"/"Part Two") "Anwhistle", (PROSE: The Wide Window, TV: "The Wide Window: Part One"/"Part Two") "Justice Strauss", (PROSE: The Bad Beginning, TV: "The Bad Beginning: Part One"/"Part Two") "Fernald", (PROSE: The Grim Grotto) "Widdershins" (PROSE: The Grim Grotto) and "Hal". (PROSE: The Hostile Hospital, TV: "The Hostile Hospital: Part One"/"Part Two")
Home video releases
DVD releases
to be added
Blu-ray releases
to be added
Gallery
External links