"
I thought it would be interesting if terrible things happened to three helpless children over and over again.
"
 

— Handler on why he wrote A Series of Unfortunate Events
Daniel Handler is an American author, screenwriter, and accordionist. He is best known for his work under the pen name Lemony Snicket as the author of A Series of Unfortunate Events and, to a lesser degree, All the Wrong Questions, a prequel to it.
Personal life
Handler was born in San Francisco, California, the son of Sandra Handler Day (née Walpole), an opera singer and retired City College of San Francisco Dean, and Lou Handler, an accountant.[1] His father was a Jewish refugee from Germany, and his mother is distantly related to British writer Hugh Walpole.[2][3] Handler has a younger sister, Rebecca Handler.
Growing up, he hated books that were overly sappy, preferring writers such as Roald Dahl and Edward Gorey. He attended Commodore Sloat Elementary, Herbert Hoover Middle School and Lowell High School, where he graduated with the Valedictorian title. Handler attended Wesleyan University, where he began writing poetry. In 1990, Handler won the Poets Prize from the Academy of American Poets, then graduated from Wesleyan in 1992. Soon after, he won an Owin Fellowship and used the prize money to fund his first novel, The Basic Eight.[4] He is an alumnus of the San Francisco Boys Chorus. After college, Handler moved to New York to work as a freelance book and movie critic.
Handler is married to Lisa Brown, a graphic designer whom he met in college. They have a son, Otto, born in 2003, and live in an old Victorian house in San Francisco.
Handler is politically active and helped form LitPAC, or Literature Political Action Committee, an organization blending politics and literature.
Handler and his wife have donated $1,000,000 to Planned Parenthood.
Personality and personal beliefs
Handler is very pro-knowledge and pro-reading, as seen in his works where the villains often shun reading, knowledge and literature and instead choose to remain ignorant, with some even going so far to advocate book burning. He also enjoys poetry.
He is also a proponent of critical thinking, as well as rejecting complacency when it comes to evil, which is one of the main themes of A Series of Unfortunate Events due to the numerous complacent and corrupt adults in it. One quote from All the Wrong Questions is: "We are told to ignore bullies. It's something they teach you, and they can teach you anything. It doesn't mean you learn it. It doesn't mean you believe it. One should never ignore bullies. One should stop them."
He has revealed ambivalence toward his wealth, and the expectations it creates, stating that he is often asked for money for charitable causes, and often gives in.[5] His attitudes toward money can be seen in The Ersatz Elevator, which can be viewed as a deconstruction of how money can negatively impact people.
Although Handler has a partially Jewish background and considers C. S. Lewis to be an influence, he describes himself as a secular humanist.[6] In addition, he says, "I'm not a believer in predetermined fates, being rewarded for one's efforts. I'm not a believer in karma. The reason why I try to be a good person is because I think it's the right thing to do. If I commit fewer bad acts there will be fewer bad acts, maybe other people will join in committing fewer bad acts, and in time there will be fewer and fewer of them."[7] Handler mentions he is not a religious person.[8] In a rare magazine interview with Marvin Olasky of World Magazine, he apparently once described himself as "pretty much an atheist."
He does not support performing traditions on the sole basis of them being done for a long time. In The Austere Academy, Lemony Snicket mentions, "Just because something is traditional is no reason to do it, of course. Piracy, for example, is a tradition that has been carried on for hundreds of years, but that doesn't mean we should all attack ships and steal their gold."
In an interview conducted by the 667 Dark Avenue fan site, Handler gave his personal philosophy as "Never refuse a breath mint".[9]
Handler is also a bit of a food aficionado, with his books often containing recipes.
Professional work
Books
Three of his novels have been published under his name. His first, The Basic Eight, was rejected 37 times before being published for its subject matter and tone (a dark view of a teenage girl's life). The book's tone served as an impetus, a word which here means the force that makes something happen or happen more quickly, of sorts for the Lemony Snicket works, A Series of Unfortunate Events.
Watch Your Mouth, his second novel, was actually completed before The Basic Eight was published. It follows a more operatic theme, complete with stage directions and various acts. Described by HarperCollins, the book's reprint publisher, as an "incest opera," it mixes Jewish mythology with modern sexuality. The second half of Watch Your Mouth replaces the opera troupe with the form of a 12-step recovery, linguistically undergone by the protagonist.
Adverbs, a series of short stories that he says are "about love," was published in April 2006. His most recent effort under his own name is Why We Broke Up, published in 2011.
Handler has stated that he is working on an adult novel about pirates–or, more specifically, a modern-age pirate who "wants to be an old-fashioned kind of pirate."[10] This novel was released as We Are Pirates in 2015.
His next novel under his own name, All The Dirty Parts, is aimed a young adult audience and revolves around the sexual appearances of a male high school senior. It was released in 2017.
Lemony Snicket
Handler originally came up with "Lemony Snicket" as a pseudonym to use, rather than placing his real name on the mailing lists of several right-wing organizations he was researching for one of his novels. It became something of an in-joke with his friends, who were known to order pizzas under the name. When he found himself writing a series of children's books, he decided to use the Snicket name to add an air of mystery to proceedings. And so, Lemony Snicket was born.
Handler began writing A Series of Unfortunate Events under the Snicket pseudonym in 1999. The books concern three orphaned children who experience progressively terrible events following the alleged death of their parents and the burning of their home, and Snicket acts as the narrator and biographer of the fictional orphans. The three orphans were taken into care by a distant relative by the name of Count Olaf. He treated the orphans horribly. He has also narrated the audiobooks for three consecutive books in the series, before deciding to quit because he found it too difficult, handing back the narrating job to the original narrator, Tim Curry.
Handler has also appeared at author appearances as "Lemony Snicket's handler," as well as appearing as Snicket himself in various other books and media, including the commentary track for the film version of his books, Lemony Snicket's A Series of Unfortunate Events. He also wrote an introduction to Lemony Snicket: The Unauthorized Autobiography under his own name.
Handler has also written some short fiction and picture books under the Lemony Snicket pseudonym. This presumably makes them canon in the Series of Unfortunate Events universe.
List of works
Handler has published a variety of works under the name "Lemony Snicket" (see Lemony Snicket's books); this section lists only works published under his own name.
Author:
With Maira Kalman:
Girls Standing on Lawns (2014)
Hurry Up and Wait (2015)
WEATHER, WEATHER (2016) - also called What the Weather Was Like
Editor or Contributor:
Introduction for Lemony Snicket: The Unauthorized Autobiography (2002) – also wrote the rest of this book under his pen name
46 works for The Believer literary magazine including 36 posts for "What the Swedes Read" column (2003-2018)[11][12]
A story for Mcsweeney's Stories Of Love And Neuroses edited by Dave Eggers (2003)
Story "Delmonico" for McSweeney's Enchanted Chamber of Astonishing Stories edited by Michael Chabon (2004)
Introduction to Nonsense Novels by Stephen Leacock (2004)
The story "Naturally" for Zoetrope: All-Story Vol. 10, No. 1 (2006)

Republished in Fantasy: The Best of the Year 2007 edited by Rich Horton (2007)

Essay "Wining" for Money Changes Everything edited by Jenny Offill and Elissa Schappell (2007)
Preface to The Confidence-Man: His Masquerade by Herman Melville (2007)
Introduction to The Hour: A Cocktail Manifesto by Bernard DeVoto (2010)
Prose "Happy, Snappy, Sappy" for Poetry (January 2011)
Essay "On Bernard DeVoto The Hour" for Tin House #44: Summer Reading (2010)
Contributor to Radio Silence issue #1 (2012)
Story "I Hate You" for Zyzzyva No. 100 (2014)
Editor for The Best American Nonrequired Reading 2014 (2014) – also wrote introduction under his pen name
A story for The 2016 Short Story Advent Calendar (2016)
Introduction for Three Masquerades by Rachel Ingalls (2017)
Music
Handler was in two bands following college, The Edith Head Trio and Tzamboni, but it wasn't until 69 Love Songs, a three-album set by The Magnetic Fields for which he played the accordion, that his music attracted attention. In the box set of the project, Handler provides a lengthy interview with Stephin Merritt about the project, as well as conversations about each song. Handler also appears in the 2009 documentary Strange Powers, by Kathy Fix and Gail O'Hara, about Merritt and his band, the Magnetic Fields.
He has gone on to play the accordion in several other Merritt projects, including music by The Magnetic Fields, The 6ths and The Gothic Archies, the last of which provided songs for the audiobook versions of the A Series of Unfortunate Events. On October 10, 2006, The Tragic Treasury was released with all thirteen songs from the thirteen audiobooks in A Series of Unfortunate Events, along with two bonus songs.
In the audio commentary to Lemony Snicket's A Series of Unfortunate Events, Handler plays a song about how depressing it is to have leeches in a film.
Daniel Handler wrote the lyrics to the song "Radio", performed by One Ring Zero, and the lyrics to "The Gibbons Girl," performed by Chris Ewen.
List of works
Film
Handler has also had some success in film work. He produced the screenplay for Rick, which was based on the Verdi opera Rigoletto, as well as Kill the Poor, which was based on the novel by Joel Rose.
Handler was involved in the screenwriting process for Lemony Snicket's A Series of Unfortunate Events, but was ultimately removed from the project. He had completed eight separate drafts of the film before giving up following a change in those who were producing the film. Robert Gordon was hired to replace Handler and eventually received credit for the film's screenplay, under Handler's request.
Handler did submit a commentary track for the DVD version of the movie, alongside director Brad Silberling. In character as Lemony Snicket, he derides the Lemony Snicket in the film–played by Jude Law–as an impostor, as well as choosing to play the accordion and sing about leeches rather than pay attention to the film. At numerous times during the track, he shows great sympathy towards the Baudelaire children and implies that he is being held captive by the director in order to do the commentary. At one point, Silberling says something racially insensitive, which Handler calls him out for.[13] It is unclear if both of them were in on it.
List of works
TV series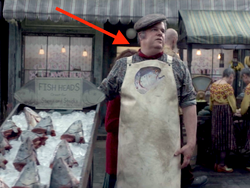 Handler helped with many aspects of Netflix's TV series adaptation of A Series of Unfortunate Events. For season 1, he wrote five of the eight episodes' scripts. He also wrote the lyrics of the theme song, "Look Away", and had a cameo as the fish head salesperson.
He had another, and sneakier cameo in Netflix's ASoUE (S2E8 at 18:20), on the back cover of "Love in the Hinterlands," disguised with a mustache and hairdo.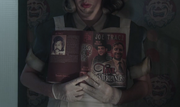 Though he continued to be an active member of the writer's room, to "The End",[14] he became less involved in the production for season 2 and season 3. Although he did participate in the read-through for the early scripts, he mentioned he was unsure how much would carry over into the final cut of the episodes. Early in the production of the season, he received an e-mail from one of the production team members, saying "We'd rather not have you involved at this point."[15] 
Quotes
"I was never much of a fan of books in which people were casting spells, and where you had to gather the three powerful rings to fell the dragon. I haven't read any Tolkien."[16]
"I was the sort of child who liked to think about difficult questions. A lot of it was my own Jewish upbringing. My father escaped Nazis when he was a small child. I grew up hearing a lot of stories around the dinner table of horrible acts and about getting out of situations by the skin of one's teeth—also the lesson that behaving well is not necessarily rewarded. I think the bewildering chaos of life was instilled in me at a young age and I understood that at any moment something terrible could happen. That's something interesting to think about as a child. And it's the shape of so much children's literature that has endured. I think that speaks to a child's bewilderment of the world. I think that when you're a very small child, everything that happens to you is new. Everything is shocking. So I think I've kept that sense with me growing up."[17]
Trivia
Surprisingly, Handler has provided evidence to suggest that he, as Handler rather than Snicket, has a role in the fictional continuity of A Series of Unfortunate Events. In The Unauthorised Autobiography, a member of V.F.D. known only as 'D.' is asked if he is 'here representing L.' (i.e. Lemony Snicket), presumably a reference to the way Handler portrays himself as the 'personal representative' of Snicket.
He theorizes he killed Edward Gorey.[4]
Interviews
Gallery
Videos
Daniel Handler around the world
Interviews
Miscellaneous
Sources