Emily Dickinson: That is one of the frustrations of a life spent in literature. Countless writers express countless ideas on so many bits of paper, and at some unknown moment some specific book, even some specific sentence, will be the right one for the right person. We never know when some scrap of literature will have its finest hour.

Lemony Snicket: So what do we do?



Emily Dickinson is the pseudonym of a kindly librarian and friend of Lemony Snicket.
Biography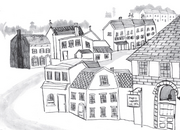 This librarian is stated to hate showing off so much she did not want her name published in Snicket's books, so he refers to her as Emily Dickinson, after a poet.
Emily was a good friend of Lemony Snicket, and over their time knowing each other he had often brought her a great number of bewildering slips of paper. She sat at a desk that was donated to the library by a bank roughly a hundred years after the death of the poet Emily Dickinson (~1986).
On the day of his poisoning, Snicket approached Emily while she was reading and showed her his suspicious note. After reading it twice, as all good librarians do, she tells him about the book she read that morning about a composer trapped in a prison camp who managed to organize a rainy concert with broken instruments.
She then salutes Snicket, and he goes to his favorite table. She waves at him later in the day before he leaves.[1]
Quotes
"
Well, that seems to be a big part of your occupation, Mr. Snicket. Isn't it? You walk the streets, usually with a book and some scraps of paper in your pocket, thinking about things and writing them down, and sooner or later you end up in a library.
"
 

— Chapter Eleven
"
'Never was I listened to with such rapt attention and comprehension.' That means everyone was listening very closely, and everybody understood his music like they never had before. It was his finest hour. Can you imagine?
"
 

— Chapter Eleven
Trivia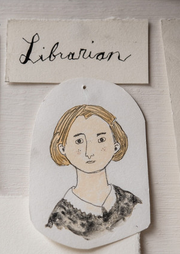 Appearances
Sources