| | | |
| --- | --- | --- |
| " | The information contained herein is secret and important, meant only for members of our organization. If you are not a member of our organization, please put this down, as it is neither secret no important and therefore will not interest you. All misfiled information, by definition, is none of your business. | " |
File Under: 13 Suspicious Incidents was published on April 1st, 2014, and is a companion book to the All the Wrong Questions series.
Sometimes called book #2.5, it is set between the second book, When Did You See Her Last?, and the third book, Shouldn't You Be in School?
It consists of thirteen mini-mysteries that Lemony Snicket solves while staying in Stain'd-by-the-Sea. The mysteries are self-contained and mostly do not relate to the main plot of Hangfire, so 13 Suspicious Incidents is an optional read which is not necessary, but enhances the world of All the Wrong Questions and Stain'd-by-the-Sea.
Synopsis
Paintings have been falling off of walls, a loud and loyal dog has gone missing, a specter has been seen walking the pier at midnight -- strange things are happening all over the town of Stain'd-By-The-Sea. Called upon to investigate thirteen suspicious incidents, young Lemony Snicket collects clues, questions witnesses, and cracks every case. Join the investigation and tackle the mysteries alongside Snicket, then turn to the back of the book to see the solution revealed.
Step into Lemony Snicket's world of deep mystery, mysterious depth, deductive reasoning, and reasonable deductions.
Table of Contents
The book is divided into two sub-files: sub-file One (1) containing the 13 reports and sub-file B (b) containing the 13 conclusions.
Not mentioned in the book introduction are the 13 additional conclusions contained in sub-file B. These additional conclusions are excluded from the ebook and audiobook.
Sub-file One
Sub-file B
Report
Conclusion
Alternate
Conclusion
Inside Job.
Black Paint.
Deep Mine.
Pinched Creature.
Dishonest Salesman.
Backseat.
Ransom Note.
Loud Dog.
Quiet Street.
Walkie-Talkie.
Through the Window.
Beneath the Street.
Bad Gang.
Homemade Furniture.
Small Courtyard.
Silver Spoon.
Twenty-Five Guests.
Missing Pets.
Violent Butcher.
Small Sound.
Large Meal.
Twelve or Thirteen.
Chalked Name.
Other Name.
Midnight Demon.
Panicked Feet.
Sand and Shore.
Three Suspects.
Very Obvious.
Poor Joke.
Vanished Message.
Message Received.
Message Recorded.
Troublesome Ghost.
Train Wreck.
Nervous Wreck.
Figure in Fog.
Shouted Word.
Last Word.
Incidents
Lemony Snicket is a boy of uncertain age who belongs to an unnamed secret spy organization. He and his incompetent chaperone, S. Theodora Markson, have been sent to investigate unmentioned events in a dying town called Stain'd-by-the-Sea. They stay in a small room at the Lost Arms hotel. In this book, Snicket helps various colorful townspeople solve 13 mini-mysteries. Readers can try to unravel the cases for themselves before checking out the answers in the back.
Mystery No. 1, "Inside Job": Snicket helps a young miner named Marguerite protect her family's gold from the polka-loving nanny, Dagmar.
Mystery No. 2, "Pinched Creature": Snicket and his reporter friend, Moxie Mallahan, help a young veterinarian recover his missing amaranthine newt.
Mystery No. 3,"Ransom Note": Snicket and the taxi-driving Bellerophon brothers, Pip and Squeak, help a mechanic named Jackie locate their stolen dog.
Mystery No. 4, "Walkie-Talkie": Snicket helps diner owner Jake Hix solve the mystery of a cry for help coming from a mislaid walkie-talkie.
Mystery No. 5, "Bad Gang": Snicket helps married police officers Harvey and Mimi Mitchum catch vandals who call themselves the Big Bad Brick Gang.
Mystery No. 6, "Silver Spoon": Snicket helps a drifter named Randall retrieve his prized silver spoon from the wealthy Smogface Wiley.
Mystery No. 7, "Violent Butcher": Mack the butcher threatens Snicket into helping him search the Black Cat Coffee building for his missing son, Drumstick.
Mystery No. 8, "Twelve or Thirteen": Snicket and Moxie solve the mystery of a painting stolen years earlier during a sled race.
Mystery No. 9, "Midnight Demon": Snicket assists rocking-chair shop owner Thomasina Cozy when she believes a demon is posing as her daughter to thwart the girl's arranged marriage.
Mystery No. 10, "Three Suspects": Snicket helps the Mitchum officers catch the culprit in a rash of blueberry pie thefts.
Mystery No. 11, "Vanished Message": Fearing she has lost an important postcard on a recent trip to Stain'd-by-the-Sea, Lois Dressing contacts Snicket and implores him to search the Swinster Pharmacy for her.
Mystery No. 12, "Troublesome Ghost": When Old Lady Mann starts seeing her husband's ghost at her mansion, Snicket helps her son discover a logical explanation.
Mystery No. 13, "Figure in Fog": Snicket ponders his many cases in Stain'd-by-the-Sea as he follows a stranger through the fog.
Characters
Recurring:
Introduced:
Mentioned:
Marguerite Gracq's parents
Doctors Sobol (Oliver's parents)
Hal Hairdryer
Mr. Samsa, Dr. Auchincloss, & Madame Blavatsky
Drumstick's mother

Chase B. Willow, his ex-wife, & lawn mower technician
Mrs. Williams née Herman & Mr. Williams, Dr. Carlos & Mr. Loth, Mrs. Summerover, Dr. River, Mr. Noleaf, Dr. Bitten, Mr. Crimson, Mrs. Cling, Mr. Paler
Mr. Cozy
Lois Dressing (V.F.D. member)
Hans Mann's father & sister
Mentioned in alternate conclusions (which are not included in the ebook and audiobook):
Bertram
Dagwood & Violetta's father

Mrs. Flammarion
A young rabbi
T and Q
Book References
Snicket and his associates reference several books, though usually not by name. They are supposed to be:
The Great Brain by John D. Fitzgerald: In "Walkie-Talkie", Jake mentions a book Snicket recommended to him about "a clever kid in Utah."
The Tell-Tale Heart by Edgar Allen Poe: In "Bad Gang", Harvey and Mimi Mitchum argue over whether or not the narrator of a book actually heard a heart beat in his room.
Unknown: In "Bad Gang", Harvey and Mimi argue over a book that involves a woman changing her mind about her mother's old suitor because of a dead bird.
Captain Blood by Rafael Sabatini: In "Bad Gang", the book that Kevin shares with Florence is Captain Blood, as Florence describes the plot point where Peter escapes from Barbados and decides to be a buccaneer.
The Little Prince by Antoine de Saint-Exupéry: In "Silver Spoon", Lemony is reading a book in the library which begins with a man carrying around a drawing of a snake that had just eaten and asking people what they thought of it.
Tess of the d'Urbervilles by Thomas Hardy: In "Silver Spoon", Snicket mentions a book Qwerty has recommended him about a woman who falls asleep and kills a horse.
Howards End by E.M. Forester: In "Silver Spoon", Qwerty was reading to the drifters a book where a bookcase falls on a man.
The Lion, the Witch and the Wardrobe by C.S. Lewis: In "Midnight Demon", Treacle is reading a book that "was just spoiled by the arrival of Santa Claus."
Strange Case of Dr Jekyll and Mr Hyde by Robert Louis Stevenson: In "Figure in Fog", Snicket mentions a book that begins with a brute attacking a little girl, and then offering her family a large sum of money.
Gallery
Promotional Material
Illustrations
Animated cover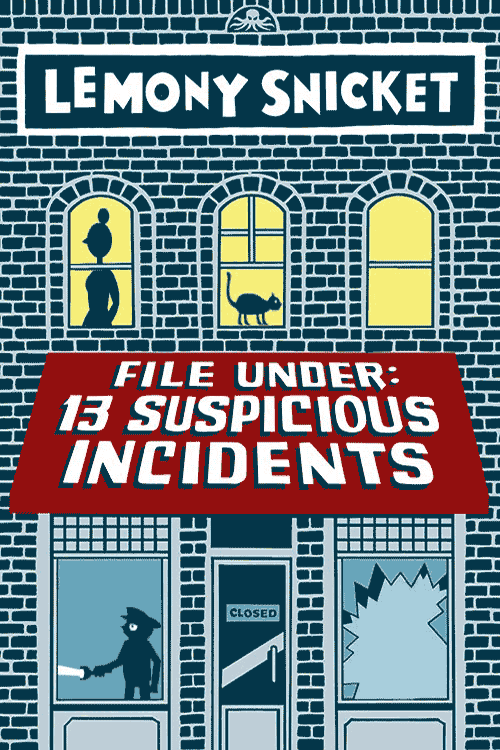 Community content is available under
CC-BY-SA
unless otherwise noted.