Geraldine Julienne is the star reporter of The Daily Punctilio. She always carries a microphone and incorrectly reports on events throughout the series.
She is also a devoted fan of Esmé Squalor.
Biography  
Early Life
Geraldine Julienne is hired onto The Daily Punctilio and works under Eleanora Poe. She is at the newspaper at the same time as Lemony and Jacques Snicket and R, the first of which referred to her as a foolish girl. After R returns to Winnipeg, Geraldine is transferred to fashion editor, and Lemony to dramatic critic. She tends to argue with Lemony while he works there.[2] At some point, she wrote a column about 667 Dark Avenue, in which she learned it was recently sold to Jerome Squalor.
After Lemony gives a poor review to One Last Warning to Those Who Try to Stand in My Way, Eleanora fires him and appoints "new reporter" Geraldine Julienne to replace his review column with a new one, "Secret Organizations You Should Know About." Geraldine finds this column boring, and sometimes adds rumors or false information to spice things up. However, some of the information leaked to her causes multiple problems for VFD, which makes them move headquarters multiple times.
She is contacted by Esmé, asking about Jerome Squalor. Thrilled to be talked to by such an important person, Geraldine flatters her and gives her all the information she wants, including doing some "research" on Jerome, where she finds that he has breakfast at the Veritable French Diner, a very in restaurant, between seven thirty and eight thirty every day. She gives Esmé this information in order to help her "accidentally" bump into him. She also tells Esmé to write her whenever she needs something done.
Years later, she writes an article about books that are improper for children to read, that end up being VFD-affiliated.[1]
Geraldine is presumed to write the article that falsely claimed that Duncan and Isadora Quagmire were twins and that Count Olaf (misnamed "Omar") kidnapped Esmé Squalor.[3] She also writes the article that claims that "Count Omar" was murdered by the Baudelaire orphans, fully believing the story.[4]
She then writes about the dangers of telephone poles, which cause telegrams to fail. Then, after receiving instructions from Esmé, she locks Eleanora Poe in the basement of the newspaper building- which is always abandoned unless in use.[1]
Geraldine arrives at the Heimlich Hospital in order to report on the cranioectomy. She is excited to hear Klaus and Sunny Baudelaire, disguised as doctors, discuss the history of the knife. She is also excited upon hearing that they have not completed the paperwork and almost forgot, thinking her readers will be excited by these events.
She witnesses the Baudelaires revealed by Esmé and the rest of the troupe, and Hal accuse them of the library burning. She manages to escape the hospital fire, due to the Baudelaires imitating Babs and telling everyone to head to the unfinished wing.
After being called by a man with pimples, Geraldine arrives at Caligari Carnival to report on their new attraction- freaks being fed to starving lions. She interviews Count Olaf, not noticing his name (as she incorrectly refers to him as Omar) about the lion show, happy to get an exclusive interview. She reiterates to another member of the crowd that she believes Count Omar to have been murdered by the Baudelaires.
Geraldine witnesses the spectacle, excited to see Olaf increasing suspense. She seems very taken with him, referring to him as "Your Countship" and being breathless as she interviews him about being a famous actor. She is "eager to see violence and sloppy eating," and encourages the freaks to be pushed into the pit rather than jump. She also is entertained by the idea of Madame Lulu possibly falling into the pit when she is put in charge of pushing the freaks, and after an argument breaks out, she demands somebody be thrown into the pit. When the crowd begins to riot, her microphone becomes tangled with Fernald's hooks. She then witnesses as Lulu and the Bald Man with the Long Nose are pushed into the lion pit.
When the fire at Caligari Carnival begins, Olaf informs her that the Baudelaires are responsible, before she escapes.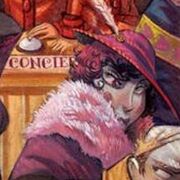 Geraldine continues to write updates on the Baudelaire case, and eventually goes to the Hotel Denouement, where she sunbathes on the roof with Esmé and Carmelita Spats, who Geraldine believes to be her daughter. She interviews Esmé, assuring her that Carmelita will grow out of her "tomboy phase", and Esmé informs her that orphans are currently out, and that planning cocktail parties is in. Geraldine, excited by Esmé and infatuated with her, does not notice the woman's insults and asks her about her "unusual glasses," which Esmé identifies as Sunoculars, a combination of sunglasses and binoculars used for birdwatching. With that, Esmé accidentally realizes that she let something slip, and claims that birdwatching is in to cover her tracks.
Geraldine begs her for information on her "surprises" for the cocktail party, and after pleading for a while, Esmé says that she'll trade a hint for information on J.S., claiming he is lurking around the basement. Geraldine incredulously asks why J.S. would be doing such a thing, though they are interrupted by Carmelita, who is upset the concierge- Violet Baudelaire- isn't doing what she said. She also mentions Esmé's boyfriend, "Countie", who will teach her to spit, which Geraldine thinks will make a great headline.
Geraldine arrives downstairs after the death of Dewey Denouement and demands to know the information for The Daily Punctilio. She recognizes the Baudelaire orphans and believes them to be responsible for the murder.
She arrives at the Baudelaires' trial, already convinced they will be found guilty. She remains enthusiastic during the trial after both parties declare themselves innocent, and submits newspaper articles as evidence. As the Baudelaires escape, she announces that "They're headlines!"
Geraldine is somewhere above the third story of the hotel after the fire breaks out, using her microphone as a cane to find her way and squealing about headlines.
It is unknown if she survived the fire.
Netflix Series Divergent Canon
Geraldine does not physically appear in the series, with many of her character details- her catchphrase and bad reporting- being given to Eleanora Poe. However, astute viewers who pause the series upon seeing a copy of The Daily Punctilio will notice that most of the articles are still attributed to her.
Her surname, Julienne, can also be seen among the other names displayed in the VFD tunnel.[5]
Physical Appearance
Geraldine is described as wearing a gray suit and chewing gum, and constantly carrying and speaking into a microphone.[6][4] At the Hotel Denouement, she has a bright yellow nightshirt and shower cap over her hair.[7]
Headlines
She thinks up many headlines and exclaims "Wait until the readers of the Daily Punctilio see that!" Such headlines include:
"DOCTOR TELLS HISTORY OF KNIFE."
"HEIMLICH HOSPITAL ALMOST FORGETS PAPER WORK."
"MURDERER ATTEMPTS TO MURDER MURDERER."
"MURDERERS CAPTURED IN UNFINISHED HALF OF HOSPITAL BY WELL-ORGANIZED MEDICAL PROFESSIONALS."[6]
"COUNT OLAF THINKS UP IDEA FOR LION SHOW."
"EXCLUSIVE INTERVIEW WITH COUNT OLAF, WHO IS NOT COUNT OMAR, WHO IS DEAD."
"FREAKS PUSHED INTO LION PIT."
"BAUDELAIRES CONTINUE THEIR LIVES OF CRIME!"[4]
"ESMÉ SQUALOR, THE MOST GLAMOROUS PERSON EVER!"
"BALLPLAYING COWBOY SUPERHERO SOLDIER PIRATE LEARNS TO SPIT"
"HIGH COURT FINDS BAUDELAIRES GUILTY!"
"EVERYBODY IS INNOCENT!"[7]
She is the author of multiple articles seen in the Netflix series including:
Appearances
Gallery
Sources