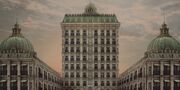 Much like a library, the Hotel Denouement's 999 rooms, corners, or walls are organized by The Dewey Decimal System.
Basement (Computer science,Information and General Works)
000, Generalities, Employees Quarters
001, Knowledge
002, The Book (Writing, libraries, and book-related topics)
003, Systems
004, Data Processing and Computer Science
005, Computer Programming, Programs and Data
006, Special Computer Methods
007 - Room 009, [Unassigned]
010, Bibliography
011, Bibliographies
012, Bibliographies Of Individuals
013, [Unassigned]
014, Bibliographies Of Anonymous And Pseudonymous Works
015, Bibliographies Of Works From Specific Places
016, Bibliographies Of Works On Specific Subjects
017, General Subject Catalogs
018, Catalogs Arranged By Author, Date, Etc.
019, Dictionary Catalogs
020, Library and Information Sciences
021, Library Relationships (With Archives, Information Centers, etc.)
022, Administration Of Physical Plant
023, Personnel Management 
First Floor (Theory of Philosophy and Psychology)
Second Floor (Religion)
Third Floor (Social Scienes)
Fourth Floor (Language)
Fifth Floor (Mathematics and Science)
Sixth Floor (Technology)
Seventh Floor (Arts And Recreation)
Eighth Floor (Literature)
Ninth Floor (History and Geography)
Community content is available under
CC-BY-SA
unless otherwise noted.