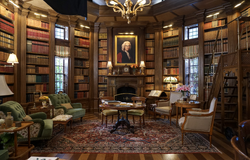 Justice Strauss' library, located in her house in The City, is a collection of books covering topics from recipes to "the world's most threatening fungus". The library also includes the books The Incomplete History of Secret Organizations and Adoption Law & You. 
The Bad Beginning
In The Bad Beginning, the Baudelaires visit it three times;
The first is to find a recipe book after Count Olaf orders them to make "a large dinner" for his theatre troop. They decide on pasta puttanesca.
The second is after the Baudelaires go to Mulctuary Money Management to report Olaf's treatment of them, and are ignored. They lose themselves in books to cope with their situation.
The third is after Olaf fores them to be in his play, The Marvelous Marriage. Klaus Baudelaire used the library to do research in hopes of thwarting Count Olaf's evil schemes, reading a book on inheritance law.
Trivia
In the video game adaptation, the house has a collection of books parodying A Series of Unfortunate Events books. These include The Glorious Garden, The Splendid Stegosaurus, The Pleasant Painting, The Talented Tourist, The Amazing Athlete and The Majestic Moon. [1]
Appearances
Gallery
Books
TV series
Community content is available under
CC-BY-SA
unless otherwise noted.