I am NOT a MONKEY!

The following article or section concerns information that is considered even less canonical than the chance of a happy ending. Any information following should not be used as a source for the canon of the book series.
Lemony Snicket's A Series of Unfortunate Events was the first adaptation of Lemony Snicket's book series A Series of Unfortunate Events. Released in 2004, the film was directed by Brad Silberling, with a screenplay by Robert Gordon.
Like the original novels, A Series of Unfortunate Events tells the story of Violet, Klaus and Sunny Baudelaire, three orphans who are adopted by a mysterious villain who attempts to steal their late parents' fortune. It is based on the first three books of the series, The Bad Beginning, The Reptile Room and The Wide Window.
The film stars Emily Browning as Violet Baudelaire, Liam Aiken as Klaus Baudelaire, Kara and Shelby Hoffman as Sunny Baudelaire, Jim Carrey as Count Olaf, and Jude Law as the voice of Lemony Snicket.
Development for the film began when Nickelodeon Movies purchased the film rights to Daniel Handler's series of books in May 2000. Barry Sonnenfeld signed on to direct in June 2002, and hired Handler to adapt the screenplay while courting Jim Carrey for Count Olaf. Sonnenfeld eventually left over budget concerns in January 2003 and Brad Silberling took over. After Robert Gordon rewrote Handler's script, principal photography started on November 2003. A Series of Unfortunate Events was entirely shot using sound stages and backlots at Paramount Pictures and Downey Studios.
The film received generally favorable reviews from critics. Although criticized for its major deviations from the books in both tone and content, it grossed approximately $209 million worldwide and received Academy Award nominations for Best Art Direction, Best Original Score, Best Costume Design and a win for Best Makeup.
Plot
Chapter 1: The Bad Beginning
After the brief appearance of "The Littlest Elf" which may have been made to confuse much of the audience and make many suspect they were in the wrong theater, the film is narrated by detective and investigator Lemony Snicket (voiced by Jude Law), who occasionally appears in silhouettes and shadows. After visiting the grave of the Baudelaires, Snicket begins writing their story on a typewriter from the interior of a clock tower.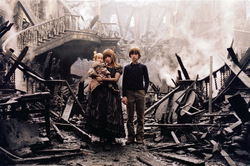 Inventor Violet Baudelaire (Emily Browning), her bibliophile younger brother Klaus (Liam Aiken), and their sharp-toothed precocious infant sister Sunny (Kara and Shelby Hoffman) are enjoying a gloomy day at Briny Beach, as they prefer less crowded times. However, their parent's bank manager, Mr. Poe (Timothy Spall), arrives to tell them that they are now orphans since a mysterious fire destroyed their mansion and killed their parents.
Mr. Poe entrusts them to their "closest relative" which is a fourth cousin three times removed or a third cousin four times removed. However, misinterpreting the phrase, Mr. Poe chooses their distant relative who lives the shortest distance away, the obnoxious Count Olaf (Jim Carrey), a stage actor and playwright who lives in a decrepit house. Olaf's neighbor is Justice Strauss (Catherine O'Hara), a friendly judge who the Baudelaires briefly meet.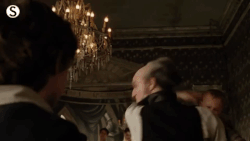 Olaf is "shocked" that the children lost their parents, and he promises to take care of the orphans, but in fact is only interested in the huge Baudelaire fortune that Violet will inherit when she turns 18. In the meantime, he treats them like slaves (Making them do all the chores). One day Count Olaf orders the children to make dinner for him and this troupe. The children decide to make them pasta puttanesca. Count Olaf angrily bursts out due to him not being able to have Roast Beef, despite the latter never asking for Roast Beef in the first place. When Klaus backtalks, Count Olaf slaps him. Olaf plans to gain full custody of the children by the town court. After being accepted, Olaf says he'll become the "ultimate dad". He drives his car to a railway-side store, leaving his car in the middle of the tracks. He leaves to get some "treats", while locking the children in the car on the way. Violet finds a book on Inheritance Law and You and finds a small page with time stamps on it. Klaus realizes that the times are schedule times for a train about to past the crossing they are on, one being 11:15 which the time on the car suddenly strikes.
The children realize that unless they do something fast they will be run over by the train. Inside the store Olaf grabs some soda only to see the bottles begin to shake, making him smile. Hearing a laughing The Littlest Elf bobble head, The children react and try to find a way out. The phone on the car's dashboard rings being Mr. Poe returning a call from Olaf. Violet tries to warn Poe of their problem, but he is unable to hear them as he is ironically next to the train. The signal begin ringing, and the train is seen in the distance. Using a makeshift rope made from a seat spring, seat trim, and the elf head they use it the latch onto a track switch to change the tracks. They fail at first but manage to latch on the second try. They are able to switch the tracks just before the train crosses. Olaf laughs as the train comes expecting a crash but stops and sees the train passing in front of his car. Mr. Poe arrives and Olaf hides, unlocking his car. Sunny sticks her head out the window and waves at Poe. Mr. Poe then decided to take away the children away from Olaf due to "Letting Sunny drive"(However, Count Olaf whispers to the children that he will find them, no matter where they go).
Chapter 2: The Reptile Room
Mr. Poe then sends the children to live with their "uncle"(Who is really their father's cousin's wife's brother), Dr. Montgomery Montgomery (Billy Connolly), a cheerfully eccentric herpetologist with a well-stocked 'reptile room' full of exotic and often fictitious reptiles, who is planning a trip to Peru. Their stay with Uncle Monty is cut short when Count Olaf appears in disguise as a man named Stephano, a replacement for Monty's assistant Gustav (who was kidnapped and tied to a train by Olaf). The Baudelaires see through the disguise instantly. They manage to communicate to Monty that Olaf is an imposter, but fail to impress upon their uncle the villain's true intention on him. Monty remains convinced that the supposed Stephano is a rival herpetologist come to plagiarize Monty's recent scientific discoveries.
Olaf later murders Monty and frames a large and poisonous viper for the killing. As the disguised Olaf and his henchman the Hook-handed man (Jamie Harris) (who is in disguise as a doctor) prepare to kidnap the children, Sunny reveals the snake's true gentle nature, and Olaf's plot is exposed. This persuades a skeptical Mr. Poe and a police inspector (Cedric the Entertainer) to accept Stephano's guilt, though not his true identity. The count abandons his disguise and escapes.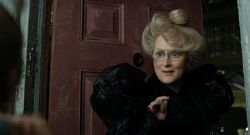 Chapter 3: The Wide Window
Events now take the children to the gloomy shores of Lake Lachrymose, where their "aunt" (not technically), Josephine Anwhistle (Meryl Streep), resides in a house perched precariously on the edge of a cliff overlooking the waters of the vast lake. She has numerous irrational fears, and yet lives in a house populated with many of those things of which she is terrified by - her fear of realtors prevents her from moving. The house is held up by stilts and includes a large window facing the lake. A room of photographs and documents apparently contains clues to the cause of the fire that killed the orphans' parents; Josephine, too, appears to know more than she is willing to reveal.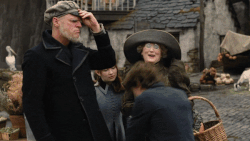 Before the children can discover more, however, Olaf arrives once again, disguised as a sailor named Captain Sham, and quickly gains Josephine's confidence and love. She accompanies him back to her home, leaving the children alone to complete the day's shopping. The orphans soon discover that Josephine has disappeared and the window smashed, leading the Baudelaires to believe that she has killed herself. She leaves what is ostensibly a suicide note, but which is, in fact, a coded message telling them that she is hiding in Curdled Cave on the shore of the lake. As the children prepare to leave for the cave, the house is torn apart by a hurricane. The Baudelaires barely escape.
Sailing across the lake to reach Curdled Cave, they find Josephine, and attempt to make their way to safety. The deadly Lachrymose Leeches reach them first, as Josephine secretly ate a banana recently. Count Olaf catches up with them, rescuing the Baudelaires but leaving Josephine at the mercy of the water and of the leeches to prevent her from revealing his designs on the orphans. It is heavily implied Josephine is killed. Mr. Poe arrives, and returns the Baudelaires to Olaf's custody, moved by Olaf's apparent dedication to the safety of the children.
Chapter 4: The Marvelous Marriage
At Olaf's home, Olaf concocts his final plan, involving a play starring himself and Violet called The Marvelous Marriage. In the play, his character marries Violet's character, but in such a way that the staged marriage is legal, gaining him access to the Baudelaire fortune. This move is accomplished by Olaf's casting of Justice Strauss as the supposed judge in the play; with her in this role, the marriage is technically legal. To ensure Violet's cooperation, he holds Sunny hostage in a cage in the forbidden tower beside his house.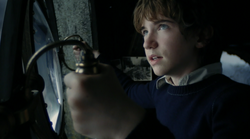 During the play, Klaus escaped to rescue Sunny by climbing up the tower. He succeeds in the entry but faces off with Olaf's Hook-handed henchman at the top wherein Klaus gains the upper hand and saves his younger sister. In the final moments of the play, as Olaf triumphantly brandishes the marriage certificate, Klaus discovers a large window with a set of lenses that, if positioned correctly, can focus the rays of the sun. Now realizing that this was the method used to set fire to the Baudelaire mansion and that Olaf was the true mastermind of the incident, Klaus uses the window to incinerate the document from a distance and succeeds, which leads to Olaf's arrest. After a few "what-if" scenes of Olaf's punishments which never happen, it is mentioned Olaf and his troupe actually escaped when a jury of his peers overturn his sentence.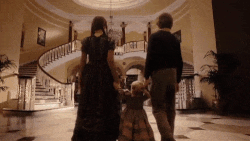 Mr. Poe makes one last stop in the ruins of the Baudelaires' home. There the orphans find the letter left to them by their parents before the Baudelaires became orphans, which contains words of hope and encouragement. The envelope also contains a spyglass, one of several that appear throughout the film to imply the presence of a secret society to which the protagonists' parents belonged. The film ends with Snicket finishing the story;
"There are people in the world who know no misery and woe and they take comfort in cheerful films about twittering birds and giggling elves. There are people who know that there's always a mystery to be solved and they take comfort in researching and writing down any important evidence. But this story is not about such people, but about the Baudelaires, who are the sort of people who know that there's always something to invent, read, bite, and something to do to make a sanctuary, no matter how small."
As the Baudelaires sleep in Mr. Poe's car on their way to their new guardians (continued in The Miserable Mill in the book canon), Snicket quotes the final line to The Wide Window, which states that the Baudelaires were "very fortunate, indeed". He finishes writing his documentation and hides the papers in the clock tower for his publisher to find before leaving for an unknown place.
Cast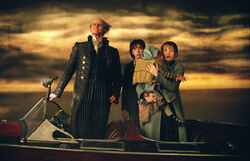 Uncredited cast
Daniel Handler initially viewed Count Olaf as being a James Mason-type. Carrey was not aware of the book series when he was cast, but immediately became a fan. "Handler's books are just a bold and original way to tell a children's story." the actor explained. Carrey was also attracted to the role over self-parody concerns.[2] Director Brad Silberling was open to Carrey's idea of improvisation for various scenes, especially the Stephano and Captain Sham alter egos.[3] In an attempt to make his prosthetic makeup more comfortable and easier to apply, Carrey shaved his head bald for the part.[2] The actor's inspiration for Olaf's voice was a combination of Orson Welles and Béla Lugosi.[4]
Crew
General production staff


Nickelodeon

Creative Supervisor

-

Damon Ross

Co-producers

-

Minor Childers

,

Scott Aversano

Associate Producers

-

Linda Hill

,

Michele Panelli-Venetis

Location Managers

(

Los Angeles

) -

Lori Balton

,

Maida N. Morgan

Location Manager

(

Boston

) -

Charles Harrington

Assistant Location Manager

(

Boston

) -

Mark Fitzgerald

Unit Production Manager

-

David Witz

Production Supervisor

-

Jason McGatlin

Production Co-ordinator

-

Lisa Greenspan

Assistant Production Co-ordinators

-

Jason Tamez

,

Emmanuelle C. Heroux

Production Assistants

-

Jessica Tate

,

Erin Wilson

,

Morgan Bailey

,

Garrett Hauenstein

,

Betsy Megel

,

Jonathan Yudis

,

Jack Dubnicek

,

Alan Baxter

,

David Mendoza

,

Michelle Schrauwers

,

Heather Anderson

,

Alexis Quartararo

,

David Allebe

,

Jason Kumalo

,

Kevin Thomas Roy

,

Laura Twors

,

Deana Morgan

,

Mark McGrath

,

Kevin P. Roy

,

Steve Simon

,

Kyra L. Kowasic

,

Alexandra Marlin

,

Megan RomeroErica Callas

,

Erica Kallas

,

Ryan Faust

,

Andrew de Geofroy

Production Secretaries

-

Carrie Arnold

,

Chris Corrado

,

Jason Zorigian

Medics

-

Marie "Ree" Nashold

,

Robert Brugger

,

Mary Lamar Mahler

Water Safety Co-ordinator

-

Rene H. Herrera

Picture Boat

Co-ordinator -

Michael Neipris

Mr. Carrey's Security -

Dotan Bonen

Unit Publicist -

Rob Harris

Studio Teachers

-

Judith M. Brown

,

Laura Gary

Baby Wrangler

-

Rob Harris

1st Assistant Accountant

-

Gene Strange

2nd Assistant Accountants

-

Jamie Daddio

,

Denise Mora

Production Auditor

-

Jim Davidson

Assistant Accountant

-

Brian Hoven

Payroll Accountant

-

Irene Haydichev

Assistant Payroll Accountant

-

Christopher Wade

Accounting Production Assistant

-

Shauna Moss

Caterer

-

Tony's Food Service

Transportation Coordinator

-

Dan Romero

Researcher

-

Max Daly

Script department

Camera and lighting department

1st Assistant Director

-

Michele Panelli-Venetis

2nd Assistant Director

-

Rusty Mahmood

2nd 2nd Assistant Director

-

Timothy R. Price

Additional

2nd 2nd Assistant Directors

-

Paul B. Schneider

,

Hans Berggren

,

Pete Dress

,

Lynn Struiksma

Script Supervisor

-

Kerry Lyn McKissick

Camera Operator

-

Kim Marks

Additional

Director of Photography

-

Robert Yeoman

"A" 1st Assistant Photographer

-

Harry Zimmerman

"A" 2nd Assistant Photographer

-

Dana Shelayne Kroeger

"B" 1st Assistant Photographers

-

Darin Moran

,

Patrick McArdle

"B" 2nd Assistant Photographer

-

Starrs McBurney

Steadicam Operator

-

George Billinger

First Company Grip

-

Mike Anderson

Dolly Grip Operators

-

Brad Rea

,

Audie Aragon

Video Engineer

-

Ian Kelly

Grips

-

Melvin "Butch" Von Bulow

,

Stephen Graves

,

William L. Slemmons

,

Chrostopher Reynolds

,

Danny Andersen

,

Paul Schmidt

,

Jeffrey T. Sweet

,

Robert Small

Film Loaders

-

Tulio Dueńas

,

Todd Avery

Underwater

Director of Photography

-

Pete Romano

Boom Operator

-

Ross Simpson

Second Company Grips

-

Malcolm Doran II

,

Vincent Olague

Steadicam Operator

-

George Billinger

Still Photographer

-

Francois Duhamel

Chief Lighting Technician

-

John Buckley

Assistant Chief Lighting Technicians

-

Michael Yope

,

Joseph F. Guerino

,

David Hengsteler

,

Michael Franco

Lighting Programmer

-

Scott Barnes

Dimmer Board Technician

-

Joshua Thatcher

Electricians

-

Jeffrey A. Cook

,

John W. Fine

,

Carlos Baker

,

K. Allen Harker

,

David Watson

,

John Linares

,

Glenn Moran

Personal assistants

Assistants to Mr. Silberling -

Sarah Hendler

,

Brian Buller

Assistants to

Mr. Parkes

-

Riyoko Tanaka

,

Leilani Gushiken

Asst to

Ms. MacDonald

-

Linda Kroll

Asst to

Mr. Van Wyck

-

Brian Read

Asst to Ms. Pistor -

Niki Williams

Executive Assistant to Mr. Carrey -

Stephanie Detiege

Asst to Mr. Carrey -

Coti Hudgens

Asst to Ms. Streep -

Kori E. Wilson

Art department


Supervising Art Director

- John Dexter

Art Directors

-

William Hawkins

,

Martin Whist

,

Tony Fanning

Assistant Art Directors

-

Eric Sundahl

,

A. Todd Holland

,

Bill Boes

Art Department Co-ordinator

-

Laura J. Derosa

Petty Cash Accountant

-

Michael Granberry

Set Decorator

-

Cheryl A. Carasik

Lead Persons

-

Ernest M. Sanchez

,

Christopher Casey

,

Craig A. Zimmerman

Drapery Foreperson

-

Steven Baer

On-set Dresser

-

Marilyn Morgan

Set Dressers

-

Scott Collins

,

Greg Evans

,

Wendell J. Joyce

,

Chris Kennedy

,

Dean Lakoff

,

Steven Light-Orr

,

Carol Ann Napier

,

Chris Patterson

On-set Puppet Effects Wrangler

-

Mitchell Coughlin

Set Designers

-

Easton Smith

,

C. Scott Baker

,

Roy Barnes

,

Todd Cherniawsky

,

Luke Freeborn

,

Sean Haworth

,

Jann Engel

,

Victor Martinez

,

J. André Chaintrueil

,

Jackson Bishop

,

Kevin Cross

,

Scott Herbertson

,

Nancy Deren

,

Lauren Polizzi

,

Marco Rubeo

,

George Trimmer

,

Donald Woodruff

,

Dawn Snyder

Greens Co-ordinator

-

Danny Ondrejko

Greens Forepersons

-

Carlo Basail

,

Richard W. Jones

,

Kevin Mangan

,

Jose Orozco

,

Bob Skemp

Greens Person

-

Jeffrey Thomas

Storyboard Artists

-

Gabriel Hardman

,

Michael Anthony Jackson

,

Giacomo Ghiazza

Conceptual Artist

-

Peter Chan

Previsualization Artist

-

Rich Lee

Animatics

-

James A. Rothwell

Chief Rigging Technician

-

Gary Dahlquist

Chief Rigging Electricians

-

Doug Weinmann

,

Patric J. Abaravich

,

Jim Greene

Rigging Electricians

-

Robert Aguilar

,

David Gottlieb

,

Joshua Davis

,

Carson E. Mayne

,

Richard Ralston

,

Melford Ramsey

,

Louie Ceredez

,

Robert A. Wood, Jr.

,

Sean Fine

First Company Rigging Grip

-

Donald Selsor

Second Company Rigging Grip

-

Jason Selsor

Rigging Grips

-

James Alden

,

Jimmy Culligan

,

Chris Conahan

,

Anthony Erlandsen

,

William T. (Jake) Jones

,

Rex A. Worthy

,

Paul A. Riggio

,

Randy Smith

Paint Supervisor

-

Clyde Zimmermans

On-set Painter

-

Chris Zimmerman

Property Master

-

Jerry Moss

Assistant Property Masters

-

Drew Petrotta

,

Rick Chavez

,

Richard "Rocky" Nichols

,

Mike Hunter

Prop Manufacturing Supervisor

-

Thomas R. Homsher

Plaster Supervisor

-

Robert Wilbanks

Plaster Forepersons

-

Dave Kilby

,

Michael Bucaro

,

Salvador Sanchez

Lead Sculptor

-

Jamie Miller

Sculptors

-

Dan Engle

,

Yann Denoual

Mold Shop Supervisor

-

David Cohen

Picture Cars

/Fabrication -

Joseph Kelley Padovich

Construction Accountant

-

Yvonne Ramond

Construction Assistant Accountant

-

Joe Beckwith

Construction Coordinator

-

John W. Hoskins

General Construction Foreperson

-

Robert Lambert

Construction Forepersons

-

Clete Cetrone

,

Michael Bunch

,

Michael Burke

,

Jack Carroll

,

Richard D. Crain

,

Fred Deyoe

,

John Guliano

,

Stuart John

,

Mark Knapton

,

Dwight T. Lowell

,

H.W. Pat Ryan

,

Jerry "Sarge" Sargent

Supervising Laborer Foreperson

-

Brian Rock

Laborer Forepersons

-

Raymond Borton

,

Ron Brown

,

Lou Economides

,

Robert Kuzler

,

Anthony J. Martin

,

Ron Martinez

,

David Turner

,

William R. Wheaton

,

Jack Laspada

Graphic Designers

-

Edward Newman Haigh II

,

Dianne Chadwick

Illustrators

-

Nathan Schroeder

,

James M. Carson

,

Rodolfo Damaggio

,

Mauro Borrelli

,

Christopher S. Ross

,

Tim Flattery

,

Jim Martin

Costume department

Chief Costumer

-

Christine Cantella

Costume Supervisor

-

Pam Wise

Chief Set Costumer

-

Donna O'Neal

Set Costumer

-

Brenda Donoho

Costumers

-

Amy L. Arnold

,

Barry Kellogg

,

Linda Redmon

,

Jimmy Vay

Mr. Carrey's

Costumer

-

David Page

Specialty Costume Manufacturers

-

Deborah Anne Ambrosino

,

Leticia D. Sandoval

Specialty Costumers

-

Rob Phillips

,

Ivory Stanton

,

Doug Stewart

Make-up, prosthetics and hair

Department Head Make-up Artist

-

Valli O'Reilly

Make-up Design

for Jim Carrey -

Bill Corso

Make-up Artist

for Cedric the Entertainer -

Barbara Augustus

Make-up Artists

-

Vivian Baker

,

Antonyia Verna

Count Olaf

Prosthetic Lab Work

-

Richard Alonzo

,

Russel Seifert

,

Clayton Martinez

Special Make-up Effects

-

Kevin Yagher

Key Hairstylists

-

Medusah

,

Linda Flowers

Hair Designed for Mr. Carrey -

Anne Morgan

Ms. Streep's Hair and Make-up -

J. Roy Helland

Count Olaf

wigs

-

Peter Owen

Count Olaf Hair Pieces -

Audrey Goetz

Hairstylists

-

Nanxy Tong-Heater

,

Cammy Langer

,

Mary Jo Fortin

Movement

Stunt Co-ordinator

-

Doug Coleman

Stunts

-

Pat Banta

,

Chase Coleman

,

Wendi Bromley

,

Karine Mauffrey

,

Julie Janney

,

Daniel W. Barringer

,

Joey Box

,

Keith Campbell

,

Darrell Graig Davis

,

Brian Duffy

,

Jimmy Hart

,

Scott Leva

,

Kurt Lott

,

Brian Machleit

,

Bob Marrocco

,

Chris Palermo

,

Allen Robinson

,

Katie Rowe

Mr. Carrey's Personal Trainer -

Gary Kobat

Animal Co-ordinator

-

Jules Sylvester

Animal Trainers

-

Dennis R. Grisco

,

Mark Jackson

Puppeteers

-

Howard Berger

,

Michael Deak

,

Robert Derry

,

Alex Diaz

,

David Grasso

,

Nick Marra

,

Jake McKinnon

Casting

Casting Associate

-

Elizabeth Greenberg

Voice Casting

-

Barbara Harris

Extras Castings

-

Central Casting

,

Jennifer Bender

,

Mariann Lee

,

Carol Grant Casting

General post-production staff

Post-production Assistants

-

Adam Zunder

,

Jason Bierfeld

1st Assistant Editors

-

Sam Seig

,

Jason Gaudio

,

Patrick Crane

Assistant Editor

-

Mark Gillard

Assistant

Avid

Editors

-

Jamie Keeney

,

Steven Ramirez

Assistant Film Editor

-

Paula Suhy

Apprentice Film Editor

-

Ken O'Keefe

Additional

editing

by -

Dylan Tichenor

Special and visual effects

Visual Effects Producer

-

Tom Peitzman

Visual Effects Supervisor

-

Stefen Fangmeier

Visual Effects Co-ordinator

-

Chrostopher Raimo

Special Effects Accountants

-

Eileen Dennis

,

Carole Humphreys

Special Effects Supervisor

-

Michael Lantieri

Shop Supervisor

-

Thomas Pahk

Shop Forepersons

-

Cory Faucher

,

Scott R. Fisher

Special Effects Technicians

-

Richard Cory

,

Donald R. Elliott

,

Rubel Garcia

,

Frankie Iudica, Jr.

,

Louie Lantieri

,

Joe Love

,

Joel Mitchell

,

Ralph Peterson

,

Bryan Phillips

,

Michael Rifkin

,

Jim Rollins

,

Bob Slater

,

Steven Scott Wheatley

,

Robert Alidon

,

Kim Derry

,

Keith Haynes

,

William P. McGinley

,

Paul Sabourin

,

Brian Tipton

Water Technician

-

Troy Waters

ILM

Animation Supervisor

-

Colin Brady

ILM

Visual Effects Producer

-

Jeff Olson

Sound Maker Forepersons

-

Anthony Cope

,

Dale Wilmarth

Model Maker

-

Jason Mahakian

Sound

Assistant Engineers

-

Tom Hardisty

,

John Rodd

ADR Recordist

-

Carolyn Tapp

Sound Effects Recordists

-

John Paul Fasal

,

Eric Potter

Re-recordists

-

Robert Renga

,

Craig "Pup" Heath

Re-recording Engineer

-

Denis St. Amand

Sound Mixer

-

Pud Cusack, CAS

Utility Sound Technician

-

Ross Levy

Digital Audio Operator

-

Jesse Voccia

Sound Designer

/

Supervising Sound Editor

-

Richard King

1st Assistant Sound Editors

-

Linda Yeaney

,

Andrew Bock

Assistant Sound Editor

-

Josie Nericcio

ADR Supervisor

-

Linda Folk

ADR Mixer

-

Eric Gotthelf

ADR Editor

-

Laura Graham

Dialogue Editors

-

Michael Magill

,

Hugo Weng

Sound Effects Editors

-

Michael W. Mitchell

,

Hamilton Sterling

Foley Supervisor

-

Christopher Flick

Foley Mixer

-

Randy K. Singer

Foley Artists

-

Sarah Monat

,

Robin Harlan

Music Editor

-

Bill Bernstein

Assistant Music Editor

-

Mike Zainer

Music Contractor

-

Leslie Morris

Music Preparation

-

Julian Bratolyubov

Re-recording Mixers

-

Andy Nelson

,

Anna Behlmer
Not every person who worked on this movie was necessarily credited. The absence of a credit for a position doesn't necessarily mean the job wasn't required. The information above is based solely on observations of the actual end credits of the film as released on home video, and does not relay information from IMDb or other sources.
Production
Development
Nickelodeon Movies purchased the film rights of the entire A Series of Unfortunate Events book series in May 2000.[5] Paramount Pictures, owner of Nickelodeon Movies, agreed to co-finance, along with Scott Rudin.[6] Various filmmakers were interested in directing, among them Terry Gilliam and Roman Polanski. One of author Daniel Handler's favorites was Guy Maddin.[7] In June 2002, Barry Sonnenfeld was hired to direct. He was chosen based on his previous collaborations with Rudin and his black comedy directing style from The Addams Family (1991), Addams Family Values (1993) and Get Shorty (1995).[8] Sonnenfeld referred to the Lemony Snicket books as his favorite children's stories.[9] The director hired Handler to write the script almost instantly, and cast Jim Carrey as Count Olaf in September 2002.[10]
Development setbacks ensued in December 2002. Rudin left Unfortunate Events over budget concerns, while Sonnenfeld and Carrey remained, but Sonnenfeld admitted he was skeptical of Paramount's $100 million budget. It was decided that changing the shoot from Hollywood to Wilmington, North Carolina would be less expensive.[9] The April 2003 start date was also pushed back.[11] Paramount eventually settled the situation in January 2003 by enlisting help from [[Wikipedia:Dreamworks|Dreamworks] to co-finance the film, but Sonnenfeld vacated the director's position. Rudin and Sonnenfeld had no involvement with the film afterwards, but were credited as executive producers. Carrey remained with approval over the hiring of the next director.[12]
"Very little of what I wrote is in the film, which I actually think is appropriate being as that I was writing it for Barry Sonnenfeld. It's a director's medium and Brad Siberling makes entirely different films from Barry Sonnenfeld. I wasn't filled with resentment because they didn't use it [my script], I was just disappointed because I'd worked a long time [on it] and Scott Rudin, Barry Sonnenfeld and I were all sort of ready to go, along with Jim Carrey, with the film that we had. So it was sort of a long, rocky, journey. But that's all [in the past]."
— Series author Daniel Handler[7]
Brad Silberling signed on to direct in February 2003.[13] Although he was unfamiliar with the concept before he was approached, the director quickly read the first three books and was excited that "Hollywood was taking a chance to put over $100 million to adapt these inventive children's books onto screen."[14] After writing eight drafts of the script for Sonnenfeld, Handler was replaced by Robert Gordon in May 2003.[7][15] Handler approved of the changes that were made from his original screenplay.[16] In addition, the author commented that he "was offered credit on the film for screenwriting by the Writers Guild of America, but I didn't take it because I didn't write it. I felt like it would be an insult to the guy who did."[7]
Principal photography
Filming was originally set to begin in October 2003 before it was pushed back.[13] Principal photography for Lemony Snicket's A Series of Unfortunate Events began on November 10, 2003, using the sound stages and backlot at Paramount Studios in Hollywood.[17] Director Brad Silberling attempted not to use as many digital or chroma key effects as possible because he wanted the younger actors to feel as if they were working in a realistic environment. Olaf's mansion occupied two sound stages, while the graveyard and the ruins of the Baudelaire mansion were constructed on the Paramount backlot. After 21 weeks of shooting at Paramount, production then moved to Downey Studios, a former NASA facility, for a further eight weeks.[18][19] Downey housed the circular railroad crossing set complete with forced perspective scenery, as well as a newly-constructed water tank complete with over one million gallons of water. The water tank was instrumental in filming scenes at Briny Beach, Lake Lachrymose, Domocles Dock and Curdled Cave.[18] Filming for A Series of Unfortunate Events ended on May 29, 2004.[20]
Design
Silberling, production designer Rick Heinrichs and costume designer Colleen Atwood all aimed for a "timeless" setting for the film, wanting to leave it ambiguous. Heinrichs also added in steampunk designs.[18] In addition to Heinrichs and Atwood, Silberling hired Emmanuel Lubezki as the cinematographer because he was impressed with the trio's work on Sleepy Hollow (1999).[21]
Lubezki discussed the cinematic similarities to Sleepy Hollow, notably the monochromatic look of both films. He also choose a specific color palette backdrop for A Series of Unfortunate Events. "The story is very episodic, so we picked a different color scheme for each section. For example," Lubezki continued, "Count Olaf's house has a lot of greens, blacks and grays; the house of Uncle Monty has a lot of greens and browns and a bit of yellow; and the house of Aunt Josephine has blues and blacks."[21]
Robert D. Yeoman was brought in as the cinematographer once Lubezki had to leave the production for his commitment to The New World (2005). Yeoman mostly worked on the expansive harbor set at Downey.[21] The art direction was inspired by The Night of the Hunter (1955), which also influenced Handler for the writing of his books.[14] Atwood commented that the Mr. Poe character was based on Edward Gorey paintings.[22]
Visual effects
Industrial Light & Magic (ILM), supervised by Stefen Fangmeier, created the film's 505 visual effects shots.[21] The train and smoke for the railroad crossing scene was entirely created using computer animation. ILM also used color grading techniques for the Lake Lachrymose scene, which also required complete animation for the leeches. The digital animators studied footage of the 2003 Atlantic hurricane season to accurately depict Hurricane Herman, which was ILM's most ambitious use computer-generated imagery (CGI) for the film.[23]
Nexus Productions designed the opening Littlest Elf animated sequence using computer animation, but modeled it after stop motion animation.[17] The snakes at Uncle Monty's house were a combination of real snakes and animatronics. The animatronics, primarily the Incredibly Deadly Viper, were used as reference models that ILM later enhanced using CGI.[18]
Because of the dangers and difficulties that comes with babies doing stuntwork, four scenes involving Sunny Baudelaire required CGI with motion capture technology.[24] Among these are the shot of Sunny hanging on to a table by her teeth, catching a spindle with her mouth and the scene where she is entangled with the Incredibly Deadly Viper. Animation supervisor Colin Brady used his baby daughter for motion capture recording.[24] A remote controlled animatronic of Sunny was also designed by Kevin Yagher.[25]
Marketing
In October 2002, Nickelodeon Movies hired Activision to create the film's tie-in video game. The agreement also included options for sequels.[26] Director Brad Silberling delivered his first cut of the film in August 2004. Fearing his original version was "too dark", Paramount and DreamWorks conducted test screenings. It was then decided to re-edit A Series of Unfortunate Events over family-friendliness concerns. Given its December release, the film's marketing campaign was criticized for being a deliberately anti-holiday comedy with taglines like, "Taking the cheer out of Christmas" and "Mishaps. Misadventures. Mayhem. Oh Joy."[27] The premiere for Lemony Snicket's A Series of Unfortunate Events was held at the Cinerama Dome. A 20,000-square-foot tent display on Vine Street was decorated with pieces from the film's sets.[16]
Story notes
Release
The film was released in the United States on December 17, 2004, in 3,620 theaters, earning $30.06 million in its opening weekend.[28] In its run, A Series of Unfortunate Events faced competition from Meet the Fockers, The Aviator and Coach Carter.[29] The film eventually grossed $118.63 million in US totals and $90.44 million elsewhere, coming to a worldwide total of $209.07 million.[28] It is the highest grossing film under the Nickelodeon Movies banner.[30] Paramount Home Video released the film on DVD in April 2005 in both single-disc and two-disc special collectors' edition format.[31][32]
Critical reception
Based on 151 reviews collected by Rotten Tomatoes, 71% of the critics enjoyed A Series of Unfortunate Events with an average score of 6.6/10.[33] The film was more balanced with 31 critics in Rotten Tomatoes' "Top Critics" poll, receiving a 58% approval rating on a 6.5 score.[34] By comparison, Metacritic calculated an average score of 62/100, based on 37 reviews.[35]
Robert K. Elder of the Chicago Tribune praised Rick Heinrichs' production design and Jim Carrey for having a balanced performance as a scene stealer. Elder called the film "exceptionally clever, hilariously gloomy and bitingly subversive."[36] Desson Thomson from The Washington Post reasoned over the characterization of Count Olaf. "Olaf is a humorless villain in the book. He's not amusing like Carrey at all. To which I would counter: If you can't let Carrey be Carrey, put someone boring and less expensive in the role. In his various disguises he's rubbery, inventive and improvisationally inspired. I particularly liked his passing imitation of a dinosaur."[37]
Ty Burr, writing in The Boston Globe observed that "Director Brad Silberling has essentially made a Tim Burton movie without the weird shafts of adolescent pain. At the same time, Silberling's not a hack like Chris Columbus, and Snicket has more zip and inspired filmcraft than the first two Harry Potter films. The film's no masterpiece, but at least you're in the hands of people who know what they're doing. The movie, like the books, flatters children's innate sense that the world is not a perfect place and that anyone who insists otherwise is trying to sell you something. How you deal with the cognitive dissonance of a $125 million Hollywood picture telling you this is up to you. At least there are no Lemony Snicket Happy Meal. Yet."[38]
Internet reviewer James Berardinelli felt that "the film is first and foremost a fantasy, but there are dark currents running just beneath the surface. I give Silberling credit for not allowing them to swallow the film. Lemony Snicket's A Series of Unfortunate Events manages to remain witty throughout."[39] Roger Ebert gave a mixed review. "Jim Carrey is over the top as Count Olaf, but I suppose a character named Count Olaf is over the top by definition. I liked the film, but I'll tell you what. I think this one is a tune-up for the series, a trial run in which they figure out what works and what needs to be tweaked. The original Spider-Man (2001) was a disappointment, but the same team came back and made Spider-Man 2, the best superhero movie ever made."[40] Scott Foundas of Variety gave a negative review, criticizing the filmmakers for sacrificing the storyline in favor of visual elements such as set design and cinematography. "A Series of Unfortunate Events suggests what Marry Poppins (1964) might have looked like had Tim Burton directed it. Not surprisingly, Burton's longtime production designer Rick Heinrichs was responsible for the sets, while ace Emmanuel Lubezki (Burton's Sleepy Hollow) contributed the expressionistic lighting schemes."[41]
Awards
Make-up designers Valli O'Reilly and Bill Corso won the Academy Award for Best Makeup. Production designer Rick Heinrichs and set decorator Cheryl Carasik (Art Direction), costume designer Colleen Atwood (Costume Design) and composer Thomas Newman (Original Music Score) were also nominated for their work at the 77th Academy Awards.[42] The film lost the Saturn Award for Best Fantasy Film to Spider-Man 2, but was honored for its DVD special edition release. O'Reilly and Corso were also nominated for the Saturn Award for Best Make-up, but lost to Hellboy.[43]
Cancelled sequel
Paramount Pictures and Nickelodeon Movies hoped the film would carry a vein similar to the Harry Potter film series.[8] Jim Carrey was attracted to the film because he found it to be a good recurring franchise character that would still allow him each time to dive into a new role.[14] "I don't have a deal [for a sequel], but it's one that I wouldn't mind doing again because there are so many characters," the actor explained in December 2004. "I mean, it's just so much fun. It's so much fun being a bad actor playing a character..."[4] In May 2005 producer Laurie MacDonald said "Lemony Snicket is still something Paramount is interested in pursuing and we're going to be talking with them more."[44] In an October 2008 interview, Daniel Handler said that "a sequel does seem to be in the works. Paramount has had quite a few corporate shakeups, widely documented in articles I find too stupefying to finish, which has led to many a delay. Of course many, many plans in Hollywood come to naught, but I'm assured that another film will be made. Someday. Perhaps."[45] In June 2009, Silberling confirmed he still talked about the project with Handler, and suggested the sequel be a stop motion film because the lead actors have grown too old. "In an odd way, the best thing you could do is actually have Lemony Snicket say to the audience, 'Okay, we pawned the first film off as a mere dramatization with actors. Now I'm afraid I'm going to have to show you the real thing.'"[46]
In 2017, Netflix released its own version of A Series of Unfortunate Events, starting with the first season, which adapted the first four books of the series. Barry Sonnenfeld worked again with Daniel Handler on this one, having both been cut from the Paramount production, and worked on the vision they had had for this particular film.
At the time the new series came out, Handler said the following about plans throughout the years for new movies:
Every so often I would get a call, and I would go down to Los Angeles, and I would sit in a room that would have some of the people who were involved in the film and some new people, and we would talk about things. I was commissioned to write a script a few years later, and it was always so serious. I would just come back, and then I would be in a room and there would be different people, and they'd have some new plan. I think there was always interest but, as you say, there were a lot of companies involved and whole phalanxes of lawyers who put it together the first time. I think that it was really kind of bureaucracy that prevented it before.[47]
Paramount Television, a "child" company to Paramount Pictures, is currently involved with Netflix on the Netflix series, as one of its production companies.
Deviations from the novels
There are quite a few differences between the books and the film. Many of these involve some dark content being toned down, while others are related to time restrictions common to most book-to-movie conversions. Perhaps the biggest change in the film is the movement of The Marvelous Marriage. In the book, this scene takes place near the end of the The Bad Beginning. In the film, the wedding takes place at the end of the storyline of The Wide Window. According to the DVD commentary, this was changed to give the film a better climactic ending. However, in the book, the wedding was one of the main reasons for the removal of Count Olaf's guardianship of the children. Therefore, a small scene was added in the movie in which Olaf tries to kill the Baudelaires by stopping his car on the rail track at the Last Chance General Store's gas station, locking them inside, and waiting for the train to come. Mr. Poe arrives later and takes the orphans away from Olaf.
Although expected, the clothes the Baudelaire children wear in the film are different than those worn in the books. In the film, Violet wears a violet and black dress and a gray (rather than red) hair ribbon, Klaus wears slacks and a blue sweater over a white dress shirt, and Sunny wears a green dress with pink stripes on the skirt. Another notable wardrobe change regards Klaus's glasses. In the film, Klaus does not wear glasses, except to read, but in the books, he cannot see without them. The eye tattoo that Count Olaf sports on his ankle is also considerably different from the one described in the book and drawn by Lemony Snicket in his autobiography. The tattoo in the books is formed out of the letters V, F, and D, but it is impossible to form these letters from the tattoo in the film. The film's version, however, is the same as Brett Helquist's early illustrations of Olaf's ankle in the books.
The books contain many recurring themes, such as Libraries, but the film adds one of its own. The children discover that all of their relatives own spyglasses, and they acquire one themselves at the end of the film. The relevance of the spyglasses is unknown, but it could relate to all of the eyes the children seem to always find themselves surrounded by.
Another notable change from the books is that, in the film, Count Olaf is shown to be responsible for starting the Baudelaire Fire, by pointing a giant, eye-shaped magnifying glass at the house. The only novel that has any proof that Olaf burned down the Baudelaire Mansion is The Slippery Slope, wherein Quigley Quagmire tells Carmelita Spats that Olaf will probably burn down their houses, and Klaus claims to have the proof for it. Olaf is a known arsonist, and the Baudelaires secretly believed him to be responsible for the cause of all their trouble, but when he was finally confronted in the books, Olaf neither confirmed nor denied it.
The following is a list of specific scene changes in and omissions from the film.
The Bad Beginning
Violet's skipping stones at Briny Beach and inventing a way to retrieve them is omitted from the film, but included in the deleted scenes.
In the film, the children go straight to the remains of their home after being picked up by Mr. Poe from Briny Beach, instead of going to Mr. Poe's Home.
The childrens' stay at the Poe home is not shown in the film. Consequently, Polly Poe only makes an appearance during The Marvelous Marriage. Edgar and Albert Poe don't appear at all.
In the book, after the children find out they must cook dinner for Olaf and his comrades, the orphans search for a cookbook in Justice Strauss's library, the take a trip to the market for ingredients. In the film, they don't even leave the house; instead, they search for something to cook, and do not find anything edible until they look in a cupboard contating many pieces of stale pasta.
The Baudelaires' visit to Mr. Poe at Mulctuary Money Management is omitted from the film.
Mr. Poe's phone call to Count Olaf is omitted.
The Baudelaires' second visit to Justice Strauss's library is omitted in the film. As a result, the stealing of the book on nuptial law and Fernald's retrieval of the orphans are also omitted.
Olaf's attempt to kill the orphans by parking his car on the railway near the Last Chance General Store did not occur in the book. During this scene in the film, though, Count Olaf can be seen holding a magazine, which he then lowers before he starts laughing. An ad for the Veritable French Diner can be seen on the back.
In the book, Violet invents a grappling hook and climbs the tower to save Sunny on the night before Olaf's play. In the film, Klaus is the one who climbs the tower, without a grappling hook, while Violet takes part in the play.
In the film, Olaf recognizes Violet writing with her left hand and tells her to use her right hand. Klaus later sets the marriage certificate on fire with the use of the eye-shaped magnifying glass in the tower. In the book, Olaf did not see her write with her left, voiding the marriage.
Count Olaf is arrested at the end of the movie but he escapes in the deleted scenes.
The Reptile Room
In the film, Uncle Monty seems to have met Violet when she was a baby and to have known their parents. This is not true in the book.
In the film, Uncle Monty states that they will be leaving for Peru the morning following their arrival, whereas, in the book, they were to leave in ten days.
In the film, Uncle Monty states that he had a wife, children, and home but lost them all to a fire. In the book, he states that he always wanted a family but never got around to it. His home was destroyed by a fire after his death.
The children's rooms are omitted from the film, although Violet is scene peeking out of what is presumed to be her room at night.
The children assisting Uncle Monty in preparation for the trip to Peru is omitted from the film but is included on various home media as a deleted scene.
In the book, Count Olaf is disguised as Stephano by wearing a long coat and a false beard, shaving his head, and covering his tattoo with powder. In the film, Count Olaf wears a yellow coat, glasses, and a false moustache.
The trip to see Zombies in the Snow is omitted from the film.
Uncle Monty ripping up Stephano's Prospero ticket is omitted from the film.
The Mamba du Mal snake is completely omitted from the movie, and the Incredibly Deadly Viper is instead blamed for Uncle Monty's death.
In the book, Klaus researches the Mamba du Mal snake to prove it did not kill Uncle Monty, while, in the film, Sunny plays with the Incredibly Deadly Viper to prove that it did not kill Uncle Monty.
In the film, Bruce and the herpetological society do not appear to take away Uncle Monty's reptile collection.
The Wide Window
In the film, Aunt Josephine seems to have previously met Violet, as well as Beatrice and Bertrand, whereas in the book, she knows little to nothing of any of the Baudelaires.
In the film, Mr. Poe does not come to get the children after hearing about Aunt Josephine's "suicide."

Consequently, the scene with The Anxious Clown and Larry the Waiter, Mr. Poe's reading of Aunt Josephine's note, and the Baudelaires' allergic reaction to peppermints are also omitted.

Captain Sham's Sail Boats and Sunny's stealing the keys from the Henchperson of Indeterminate Gender are omitted from the film.
In the book, the children escape the house quicker than in the movie, where they are trapped on a board.
In the book, Violet builds a refraction device to set fire to a sail as a signal for help. In the movie, however, she and Klaus call for help and wave their arms.
In the film, Olaf leaves Aunt Josephine alone to fend for herself on a sinking boat. The book's ending, however, is far more sinister: Olaf pushes Josephine into the water, and the torn remnants of her lifejacket are later discovered.
Trailers
Links
Sources