It is our duty to chronicle the terrible stories inside the 13-volume "A Series of Unfortunate Events", its prequel "All The Wrong Questions", the Netflix series, the Nickelodeon movie, and everything else related to the author Lemony Snicket on this truly horrid database. However, it is not yours! We advise you to look away from this wiki immediately, and we advise you NOT to scroll down more or research on lemonysnicket.com. If you need something more chaotic and less miserable, we advise you to go to the very unofficial, understaffed, unreliable, unorganized Snicket Fanon and Discussions Wiki.



The Lemony Snicket Wiki is a collaborative encyclopedia about Daniel Handler's book series, including A Series of Unfortunate Events, that anyone can edit!

A good library will never be too neat, or too dusty, because somebody will always be in it, taking books off the shelves and staying up late reading them. —Lemony Snicket


Find out about the characters of this tragic tale, if you want. If you actually want to, you are in a circumstance that is horribly sad because if you have even scrolled down this far, you must be mad, and should visit a doctor at once.
---
Click here for more characters! (I doubt you should)
---

Actually, we should NOT have called this section that. DO NOT BROWSE THE BOOKS, please!
---

Why did you come here? Go. Do not read the featured article.
Okay, fine. We'll stop. Don't say we didn't warn you.
For Valentine's Day, read about Beatrice Baudelaire and why she cannot wed Lemony Snicket.
---

DO NOT READ ANOTHER WORD OR WATCH ONE MEASLY VIDEO!

---

1

Hello. L.M. Snicket here.

2

As a member of you know what and as stated in my bio, I sincerely apologise for not posting on my blog on a daily basis. This week, I'll go above and above and work as hard…
When we grab you by the ankles, Where our mark is to be made, you'll soon be doing nobles work, althouqh you wont be paid. When we drive away in secret, You'll he a volunteer, So don't scream when we take you, …
OWNED BY WASAABI537
ow, this is a lot to reply to...
Ok-
(Also, I had written a MASSIVE comment but I accidentally deleted it, so I'm re-writing everything. *sigh*)
*I'll link to all the posts I mentione…
See more >

Finally, some nicer wikis for you to go see.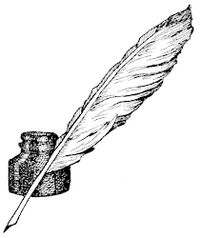 Literature Authors
Go to these sites for info or for help with your own wiki!
Agatha Christie/Mary Westmacott • Dr. Seuss • Eric Flint • Harry Turtledove • Lemony Snicket • R.J. Palacio • Rick Riordan • Stephen King • Tamora Pierce
Want your community included? See how!