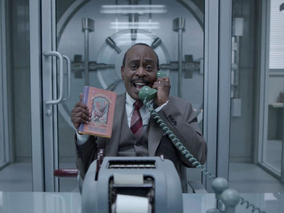 Mr. Tamerlane is a recurring character in A Series of Unfortunate Events. He's Arthur Poe's boss.
Books
He appears in The Bad Beginning, unnamed, over the phone. He often calls Mr. Poe while the Baudelaires are talking to him.
Netflix Adaptation
He makes a few minor appearances in the TV series as "Mr. Tamerlane, Mr. Poe's boss". He makes calls to Mr. Poe at inconvenient moments, especially while the Baudelaires are trying to impress some important point in him (E.g., Count Olaf is disguised again.)
Mr. Tamerlane is often dissatisfied with Mr. Poe's performance, especially as regards the Baudelaires and their fortune, threatening to fire him multiple times if he does not improve. He does not appear in person in any episode, nor can his voice ever be heard with any clarity.
There is speculation that Mr. Tamerlane is actually Count Olaf.
Community content is available under
CC-BY-SA
unless otherwise noted.