Netflix is an online distributor of movies and television. On top of streaming a variety of content to more than 190 countries[1], and 93 million subscribers worldwide[2], in recent years Netflix has also produced "Netflix Original" series and films. In 2017, Netflix released the original programme, A Series of Unfortunate Events.
A Series of Unfortunate Events (2017-2019)
Main article: A Series of Unfortunate Events (TV series)
In November 2014, Netflix announced that they had begun developing a television adaptation of Lemony Snicket's A Series of Unfortunate Events novels. Daniel Handler was announced early on as one of the show's executive producers.[3] Netflix, of course, approached him of their own initiative.[4]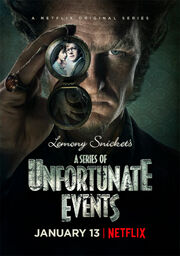 "I can't believe it," Snicket is quoted as saying, "After years of providing top-quality entertainment on demand, Netflix is risking its reputation and its success by associating itself with my dismaying and upsetting books."[3]
Handler and the others had to sit with Netflix executives on multiple occasions, to convince them to allow a number of elements in the series. Handler explained that the precedent of The Big Bang Theory allowed for the possibility, even in "mainstream" television, to hold onto the obscure literary and historical references which were ever present in the original novels.[5]
The show's first season was released by Netflix on Friday, January 13th, 2017. By the time that season 1 was made available to stream, season 2 had already been commissioned by Netflix, and planning was well under way.[4] Season 3 was released all at once on January 1st, 2019.
External links
Social media
Sources