Read Something Else: Collected & Dubious Wit & Wisdom of Lemony is the second book of quotes by Lemony Snicket. Many of the quotes are from previous published works, though some are original to the book. The book also includes artwork by fans.[1]
Quotes and Artwork Edit
Below are a few examples of quotes and artwork from the book.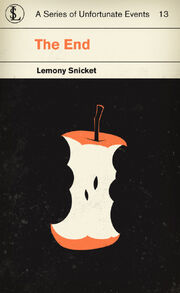 "Taking a few sentences from a book and putting them by themselves is like removing a few sheep from a meadow. The sheep might get lonely, but you might find them delicious."
"The end of a book's introduction is like the end of childhood. There is still so much ahead to disappoint you."
"The sad truth is that the truth is sad."
"You might be afraid of the dark, but the dark is not afraid of you. That's why the dark is always close by."
"Oftentimes. when people are miserable, they will want to make other people miserable, too. But it never helps."
"Reading is one form of escape. Running for your life is another."
"All cannot be lost when there is still so much being found."
"Anyone who thinks the pen is mightier than the sword has not been stabbed with both."
There are quotes from Snicket's two series, A Series of Unfortunate Events and All the Wrong Questions, as well as, some of his minor works, including from The Dark and The Bad Mood and the Stick.
This is Snicket's second book of quotes, the first being Horseradish: Bitter Truths You Can't Avoid.

Some quotes appear in both books, e.g. "Normally it is not polite to go into somebody's room without knocking, but you can make an exception if the person is dead, or pretending to be dead."
Unlike Horseradish, this book is not divided into chapters. While the book has an introduction, it is not a short story. While illustration in Horseradish consists of a single man walking, Read Something Else contains a variety of art by over thirty artists.