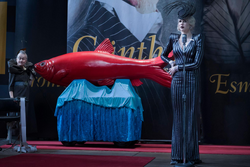 The red herring statue was lot #48 at the In Auction during The Ersatz Elevator.
The statue was the item that Count Olaf hid the Quagmires in, while lot #50, V.F.D. (Very Fancy Doilies), turned out to be the figurative red herring. The doorman to 667 Dark Avenue, who was really the Hook-Handed Man, bid on lot #48 until he got it, helping Gunther (Count Olaf in disguise) kidnap the Quagmires.
Appearances
Trivia
"Red herring" has multiple meanings. Lot #48 was a statue of a type of fish, kipper, also known as red herring. While lot #50 was a different type of red herring: "a logical fallacy or a literary device that leads readers or audiences towards a false conclusion."[1] Lot #50 being listed as V.F.D., made the Baudelaires think that the Quagmires were being hid inside it.
In the TV series, Duncan Quagmire wrote DQ + VB inside it, alluding to his crush on Violet Baudelaire.
In the TV series, the statue can be seen in the arboretum in The End.
Sources
Community content is available under
CC-BY-SA
unless otherwise noted.