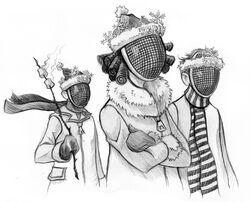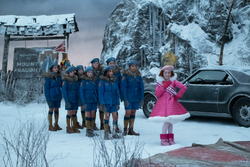 The Snow Scouts are a mountaineering organization featured in The Slippery Slope and The Grim Grotto.
Description
As explained by Carmelita Spats, each year the Snow Scouts, led by Carmelita's Uncle Bruce, trek up the Mortmain Mountains to celebrate False Spring by dancing around the Springpole on Mount Fraught and crowning a False Spring Queen.
History
The Baudelaires met the Snow Scouts in a cave in the Mortmain Mountains that was the former habitat of the Volunteer Feline Detectives. In the back of this particular cave, is a Vertical Flame Diversion, unknown to the majority of The Snow Scouts.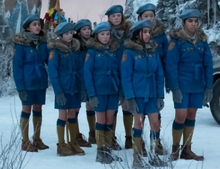 Later in The Slippery Slope, the Snow Scouts, with the exception of Carmelita Spats, who was adopted by Esmé Squalor, were captured by Count Olaf and taken to work in his submarine (that he stole) in Book the Eleventh, The Grim Grotto (at least some of them).
Pledge
The Snow Scout Alphabet Pledge, created by Bruce, is as follows:
Snows Scouts are accomodating, basic, calm, darling, emblematic, frisky, grinning, human, innocent, jumping, kept, limited, meek, nap-loving, official, pretty, quarantined, recent, scheduled, tidy, understandable, victorious, wholesome, xylophone, young, and zippered–every morning, every afternoon, every night, and all day long!
Following a recitation of the pledge, the Scouts make long, airy sounds, "as if they were imitating the wind outside" the cave. This is Uncle Bruce's favorite part.
Klaus, Violet and, later on, Sunny, noticed that it is reasonably difficult to imagine how a person could be "calm" and "meek" at the same time as being "frisky" and "jumping," how they could avoid being "young" and "human," or why "xylophone" appeared in the list at all.[1]
Uniform
The uniform of the Snow Scouts consists of:
bright white snowsuits with

puffy sleeves, covered in emblems of snowflakes in varying sizes and shapes
pink lettering on the back listing each of the words of the Snow Scout Alphabet Pledge

white headbands with

tiny plastic snowflakes sticking out of the top in all directions
the word "Brr!" written in icy script

dark round masks covered in tiny holes (much like those worn in the sport of fencing) to protect the Scouts' faces from Snow Gnats
Known Snow Scouts
Sources