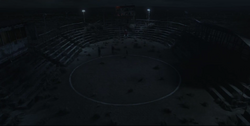 "
As anyone who has been to junior college knows, orphans tend to have unsound bodies, which leads to paranoia, delusion and untapped wealth. That's why I have developed the Special Orphans Running Exercises, or S.O.R.E. for short, which I will be offering to a few select students.
"
 
Special Orphan Running Exercises (S.O.R.E. for short) is part of one of Count Olaf's many schemes to steal the Baudelaire fortune. Disguised as Coach Genghis, Olaf forces the Baudelaires to run hundreds of laps all night.
Description
Coach Genghis claims to Vice Principal Nero that orphans have the best legs for running so he has comprised S.O.R.E. These mandatory exercises take place nightly during Nero's mandatory violin recitals.
On the first night, Olaf forces the Baudelaires to paint a very large oval. Olaf then forces them to run laps around the oval until morning while barking out orders. Every following night during the Baudelaires stay at the academy, Olaf continues to force them to run all night, causing them to be extremely tired during the day and subsequently fail their classes. Olaf's goal is for the Baudelaires to fail out of Prufrock Preparatory School and for Nero to give them to him.
To combat S.O.R.E., Isadora and Duncan Quagmire offer to help the Baudelaires by disguising as them with their clothing, using a bag of flour for Sunny, as Coach Genghis got into the habit of watching them from afar. The plan fails when Genghis kicks Sunny, putting a hole into the flour bag.
At the end of the novel, the Baudelaire's S.O.R.E. training helps them to catch up to a fleeing Coach Genghis, although only to the point where they can reveal his identity as Count Olaf.
Gallery
Community content is available under
CC-BY-SA
unless otherwise noted.