The Incomplete History of Secret Organizations: An Utterly Unreliable Account of Netflix's A Series of Unfortunate Events is a tie-in book for Netflix's A Series of Unfortunate Events TV series.
It is written by Joe Tracz, a writer for the TV series. It is designed to look like the book The Incomplete History of Secret Organizations from the show.
The book was always meant to come out before season 3 and because of that, it teases season 3 without spoiling everything. The tie-in book contains a secret code which people should wait to crack until after they watch the third season.[1]
Description
| | | |
| --- | --- | --- |
| " | In every library, there is a single book that can answer the question that burns like a fire in the mind. | " |

In this fully illustrated companion to Netflix's award winning
A Series of Unfortunate Events
, you will discover never-before-seen photographs, never-before-told stories, and never-before revealed secrets spanning all three seasons of the hilariously twisted, critically acclaimed hit series. You will encounter original concept art, annotated script excerpts, and interviews with the creative team and all-star cast, as well as glossaries, recipes, lyric sheets, an introduction by Count Olaf's legal representative Neil Patrick Harris, hidden Easter eggs, shocking backstories, and suspicious pages from the titual tome, unredacted, and revealed here for the first time.
Perhaps you are wondering how a noble person such as yourself might become a member of a secret organization. Like so many things in life, it starts by picking up the right book. So go ahead, read at your own risk.
Summary
Introduction
An introduction to the book is provided by Neil Patrick Harris, and then a brief history of the Netflix series is provided, including interviews from Barry Sonnenfeld, Brian Wright, Barry Sonnenfeld, Cindy Holland, Ted biaselli, Bo Welch, Rose Lam, Daniel Handler and Joe Tracz. The introduction concludes with a selection of concept art for different aspects of the show. 
Volunteers & Villains
"
I'm afraid the only way to tell if someone is a volunteer or villain is through careful observation.
"
 
The characters of the series are discussed at length, including the elements of casting, behind the scenes information from the actors, a list of Violet's Fantastic Devices from the TV series, a list of The Dismal Dedications to Beatrice, a navigation guide to the Secret Underground Tunnel system, a section on The Weary Writers of the series, and a list of the songs in the series- with deleted song, 
Cliffhanger,
 included.
Disguises & Deceptions
"
Life is nothing more than prosthetics and pretense.
"
 
The costuming of the series is discussed, including hair and makeup. Also included is information on he makeup required for Count Olaf, the hidden Barry Sonnenfeld paintings, Esmé's costuming, the Schism and the Sugar Bowl, fake mustaches, the series's score and leitmotifs, the spyglass prop and codes, and the design of the harpoon gun.
Safe & Unsafe Houses
"
Nothing sinister has ever come from the real estate market.
"
 
This section details the sets of the show, episode-by-episode and including the lyrics to each specific theme song. Also included are some excerpts from the Sordid Scripts, pictures of the warning signs throughout the show, recepies "from the kitchen of
Sunny Baudelaire
," a timeline of pre-production for each episode, a mini-bio on
Fiona
 with attached article on the Anwhistle Fire, 
The Bitter End
Ted Biaselli, Barry Sonnenfeld, Brian Wright, Rose Lam and Cindy Holland close the book by discussing how much they enjoyed working on the show. Also included is a glossary of imperative terms, a list of Awful Allusions, and image credits.
Secret Code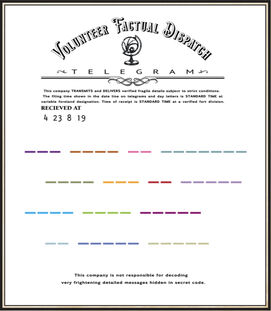 On page 188 of the Hardcover copy (included in the 
Safe & Unsafe Houses
 section) is a Volunteer Factual Dispatch which includes a coded message. 
In order to find the message, readers have to go through the book and find letters corresponding to the underlined colors on the telegram; each underline is one letter, and once all found, the letters must be mixed up to find the word. There are fourteen words in total. Each word can be found by finding the word See: in the corresponding color and following it to the referenced page number, and then going through the paragraphs to find the letters.
The Telegram is said to answer the question, What comes after the end of The End?
Solving the Code
Look Away: Spoilers Ahead
This page absolutely does contain spoilers either about the behind-the-scenes or narrative elements of stories which have not yet been published or broadcast.
The first word is three letters long, in dark purple, and can be found on page 133: The Reptile Room. The letters found are otw.

You always want to do something new, but at the same time, I wanted to see if there were clues I could integrate into the design. 
This flips it so the priority is the reptiles, and his own living space is sort of diminutive. 
And in "The Reptile Room," [Monty]'s delighted to share his world with these kids. 

Four letters long, dark orange, on page 99: Toupees for Toddlers. The letters found are ests.

"Well, we can't put a wig on a baby." 
It's one of the oddest things I've ever done in my career, applying a little wig on a baby. 
When we started the second season, Presley had grown her hair long enough that we could actually create the ponytail with her own hair, which was a relief. 

Two letters, pink, page 130: Mr. Poe's Office. The letters found are of.

It can be goofy, but it's never goofy-stupid. 
He's the guy that's literally standing between Olaf and the Baudelaire fortune. 

Seven letters, gray-blue, page 110: How to Dress for a Masked Ball. The letters are eidnrsf.

The flashback that opens "The Carnivorous Carnival" is set at a Venetian-style masked ball, where masks conceal a number of familiar faces. Cynthia Summers designed each mask with the character in mind, including Dr Orwell's "eyeglasses," a Medusa-inspired snake mask for Uncle Monty, and theatrical comedy/tragedy masks for the Snicket Brothers. (Jacques wears the comedy mask, while Lemony, of course, is tragedy.) The ball also marks the first on-screen appearance of the mysterious Beatrice, described in the script as "a beautiful woman dressed as a dragonfly." 

Four letters, gray, page 45: Olivia Caliban/Madame Lulu. The letters found are jtsu.

A dangling thread from Season One was a certain book on secret organizations discovered by Justice Strauss - a book whose title will be familiar to anyone reading this. 
Still, they liked the idea of a character finding The Incomplete History of Secret Organizations and having the book change your life, as it will no doubt change yours. 
While the book's version of Olivia is a veteran agent of dubious morality, the show reinvents her as a noble school librarian struggling against institutional corruption. 
There, disguised as Madame Lulu, she fulfills her mission of passing the book to the Baudelaires - and sacrifices herself at the lion pit to save their lives. 

Three letters, gold, page 109: How to Dress for a Career in Food Service. The letters found are uto. 

Author Daniel Handler explains that the VFD agents we meed in the show are the types of people whom children notice by adults overlook. 
You're going to notice things that are invisible to the adults talking over your head. 
Take a good look at the restaurant's terrifying logo. 

Two letters, red, page 141: The Miserable Mill. The letters found are fo. 

"The Wide Window" left us with no more stage space, so it forced us to shoot the mill at a real location, an old dock building which we then tried to make look like a stage. 
Klaus comes back from the eye doctor, but he isn't quite himself. 

Five letters, light purple, page 97: The Real Sugar Bowl. The letters found are eahrc. 

According to Esme, it was stolen from her by Beatrice, and according to Olivia, it may have been the reason for the VFD schism. It's not the first sugar bowl to play a vital role in a work of classic literature (interested parties may seek out We Have Always Lived in The Castle at their local library), but Daniel Handler muses on another possible inspiration: "There a whole sugar scene in the movie Midnight (See: Snicket, Jacques, pg 44) that must have seeped into me when I was a child. Somehow I think that was one of the sugar bowls of literature that ended up sneaking in." 
The existence of four identical sugar bowl [props] may be of interest to Esme Squalor, or at least her actress, Lucy Punch, who requested to keep one when the series wrapped. "My character was so desperate for it," says Punch. "It seemed appropriate." 

Four letters, blue, page 172: The Carnivorous Carnival. The letters found are wlli.

There's literally no program you can watch that's any wierce. 
The aesthetic of carnivals and circuses is naturally creepy and absurd to begin with. And then you add the overlay of our material, where everything is filtered  through the Baudelaires, so the sets are designed to be seen as if you're a vulnerable child glimpsing this horrible world and trying to maintain hope. 
Count Olaf arrives at Caligari Carnival, where he hopes the fortune-teller can help him. 

Four letters, green, page 89: The Many Faces of Barry Sonnenfeld. The letters found are eetm.

and in "The Vile Village," he's the fire chief posing with his Dalmatian int he firehouse-turned-saloon. 
A common ancestor to our series' interconnected families? 
Barry birthday is April Fool's Day, and for his birthday, I decided to knock off a painting with him in it. 
We're shooting the Hotel Denouement right now, and the whole hotel is based on the Dewey Decimal System, and each floor is a different subject. 

Five letters, magenta, page 64-65: The Sinister Songs. The lettters found are agina.

"I was a huge fan of the books in my twenties, and I  was also a huge fan of Barry Sonnenfeld, so to see those two come together and actually be a part of it was unreal." 
Count Olaf introduces himself to the Baudelaires with this song and dance - ignoring the fact he's already met them. Handlers says, "Singing is perfect for Count Olaf because he imagines himself so wonderful." 
All of the dance numbers were choreographed by Paul Becker, who pulled double duty in the first half of "The Carnivorous Carnival".
She's had quite an exciting / Time on the road

Two letters, light gray, page 24: Violet the Inventor. The letters found are on.

But now those inventions, like the Baudelaire mansion itself, are gone. 
She promised her parents she would always look after them, and while Count Olaf's schemes have put that promise to the test, Violet's managed to stand strong in even the most unfortunate situation. 

Five letters, dark blue, pages 116-117: Deciphering Code: Using the Dials of the Spyglass. The letters found are riynb.

As a volunteer, you already know why and when the spyglass was created (See: Motion Picture, Pg 10) but we will briefly recap its history here.
A permanent mark has its advantages, since even the most absent-minded member rarely leave the house without their ankle (See: Peg Leg, pg 86), but it has its drawbacks too, particularly if the organization undergoes a schism, so that the same symbol that once stood for comradery and literacy suddenly represents treachery and pyromania now that it is inscribed on the ankles of your enemies. 
But just as a movie might be more than a movie, a spyglass can be more than a spyglass. 
Critics called these films terrible, which was the point: Sebald wanted to ensure that no one would want to see them besides other volunteers, who would be more interested in their secret messages than their artistic value. 
The cinema's projectionist assigns the film a production code made up of a unique combination of numbers and symbols. 

Five letters, pale yellow-gray, page 32: Who is Lemony Snicket? The letters found are haebc.

He is currently investigating the lives of the Baudelaire orphans,  though his reason for doing so is unknown, as are his whereabouts. 
Mr. Snicket can be identified by his dry wit, his tailored suits, and his ankle tattoo, as well as his tendency to launch into wordy monologues containing Very Frequent Definitions. 
But when developing the series for Netflix, Barry Sonnenfeld and Daniel Handler independently felt that their Snicket should be seen as well as heard. 
And they both independently thought of Patrick Warburton, a frequent Sonnenfeld collaborator whom Handler had loved in a little-seen film called The Woman Chaser. Volunteers who track it down will note that it features Warburton speaking to the camera in a suit and a deadpan style that one might call Serlinig-esque - or Snicket-esque. 
All together, the code spells:
otw ests of eidnrsf
jtsu uto fo eahrc
wlli eemt agina
on riynb haebc
In order to answer the question and solve the code, the lines have to be unscrambled. Once unscrambled, they read:
Two sets of friends, just out of reach
Will meet again on Briny Beach.
Considering that the code is a couplet, the favorite poem format of Isadora Quagmire, this message likely means that in the TV Show's canon, the Baudelaires reunite with their missing friends on Briny Beach.
Interviews 
A list of people who contributed to the information in the book:
Neil Patrick Harris (Actor, Count Olaf)
Barry Sonnenfeld (Showrunner)
Brian Wright (Netflix, Vice President of Original Series)
Cindy Holland (Netflix, Vice President of Original Content)
Ted Biaselli (Netflix, Director of Original Series)
Bo Welch (Production Designer and Director) 
Rose Lam (Executive Producer)
Daniel Handler (Author, Executive Producer)
Joe Tracz (Story Editor and Co-Producer) 
Patrick Warburton (Actor, Lemony Snicket)
Malina Weissman (Actor, Violet Baudelaire)
Louis Hynes (Actor, Klaus Baudelaire)
Alfre Woodard (Actor, Josephine Anwhistle) 
Aasif Mandvi (Actor, Montgomery Montgomery)
Allison Williams (Actor, Kit Snicket)
Usman Ally (Actor, Fernald)
Nick Urata (Composer)
K. Todd Freeman (Actor, Arthur Poe)
James Newton Howard (Composer)
Julie McHaffie (Hair Department Head)
Cynthia Summers (Costume Designer)
Rita Ciccozzi (Make-Up Department Head) 
Kate Marshall (Set Decorator)
Lucy Punch (Actor, Esmé Squalor)
Roger Bart (Actor, Vice Principal Nero)
Nathan Fillion (Actor, Jacques Snicket)
Tony Hale (Actor, Jerome Squalor) 
Jim Dooly (Composer) 
Sara Rue (Actor, Olivia Caliban)
Dean Goodine (Prop Master) 
Allan Arkush (Director) 
Don Macaulay (Supervising Art Director)
Gallery
Volunteers and Villains
Disguises and Deceptions
Safe & Unsafe Houses
Sources
Community content is available under
CC-BY-SA
unless otherwise noted.