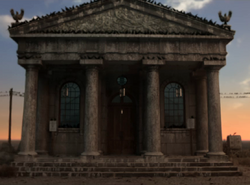 The Town Hall of the Village of Fowl Devotees is a building of white marble with a high ceiling.
Inside is a long bench where the Council of Elders sit. In front of the bench is a small platform, and behind the platform are approximately 100 folding chairs for the rest of the villagers. The Council will only discuss things that are on the platform.
Appearances
The Vile Village
A Series of Unfortunate Events (TV Show)
The Vile Village Part One
The Vile Village Part Two
Community content is available under
CC-BY-SA
unless otherwise noted.