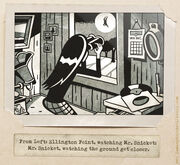 I am a huge Snicket fan and just want to help make the wiki more thorough and accurate! 
Currently Working On
Cleaning up some pages, adding missing information and references. 
Favorite Characters
Ellington Feint - I love her determination and loyalty, and I feel so horrible for her for having such a horribile father - he clearly didn't care at all about her, while she gave up everything to find him. 
Fiona - I will slaughter Widdershins myself for tearing her down so much. Just let her be a normal kid and study mushrooms! 
Friday Caliban - I refuse to believe she's dead, she's a researcher like Klaus and got adopted by Ellington and is best friends with the Increidbly Deadly Viper.
Obviously all of the Baudelaires and Quagmires! Those are my BABIES and I LOVE THEM
Lizzie Haines - idk I just think she's neat 
Cleo Knight and Jake Hix - i. love them
Beatrice Baudelaire II - that is an angel!!!
Testing Codes
Community content is available under
CC-BY-SA
unless otherwise noted.